Settler of township lots: Lot 8, Conc. 6, Stanhope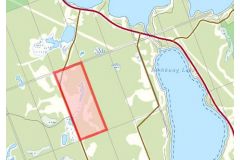 Location: Map point is a guess on Buckslide Road.
Land acquisition: No record of ownership. Ontario Land Parcel Register - Stanhope (Image 22).
Dates of residency:
1864 Residence: 41st United States Colored Infantry Company G Civil War
1871 Henry & Mary arrived in Canada
1883 Stanhope Voters List: tenant at Lot 6, Conc. 8, picked up mail at Boshkung
1890 Stanhope Voters List: picked up mail at Peterson Corners
1891 Census of Canada: Henry & Mary Pearl are living in Stanhope township. 81 year old

Daniel Buck

is lodging with them.
1901 Census of Canada: leasing 78 acres at Lot 9, Conc. 13 Lutterworth, including one house and one outbuilding. This is the current location of the University of Toronto Survey Camp.
1909: On 30 March, Henry purchased 1 1/4 acres of land from

Harry Welch

at Part Lot 2, Conc. A Minden for $285. This was described as "at the angle of the Minden & Gelert Road". This land became known as Pearl's Hill and is the current location of Panorama Park and the Minden Scenic Lookout.
1911: On 13 May, Henry purchased an additional 3/4 acre on this lot from Francis Wilson for $25.
1911 Census of Canada, Minden: Henry & Mary at Part Lot 2, Conc. A, Minden.
1919 Two weeks after his wife's death, Henry sold these two parcels of land at Lot 2, Conc. A to Harry Nicholl for $275 and moved to his granddaughter, Laura May (Thomas) Kellett's home in Snowdon Township.
Interesting facts:
Henry Pearl and his wife Mary Patterson were Americans, described on various census records as African or mulatto, who left the United States and first settled in the Brantford area of Ontario before making their way north to Stanhope. Other black settlers who followed this route were the John & Catherine Thomas family and the Morey siblings.
Granddaughter Amy Thomas was born at Kushog Lake in 1884. The following is an excerpt from "Amy's Memoirs", as received from Michele Ferbeek by Gareth Kellett and Dave Bulford in 2004 for the perusal of the Haliburton Highlands Genealogy Group.
"My maternal grandparents, Henry Pearl and Mary Patterson Pearl were from Green County, Pennsylvania. Their ancestry was Pennsylvania Dutch, Irish, Cherokee Indian, German and Negro. Later they located in Ypsilanti and Ann Arbor, finally settling in Haliburton County, near Minden. They were never in slavery. My mother Eliza Jane (Pearl) Thomas was their only child, but they adopted a child Elmira Simms, who was about Mother's age. Grandfather was a soldier in the Civil War, was wounded in the arm, received an honourable discharge and a pension. He passed away at the age of 84 at the home of his granddaughter, Mrs. May (Collingwood) Kellett."
41st Regiment, United States Colored Infantry: USCT soldiers were among the first Union forces to enter Richmond, Virginia, after its fall in April 1865. The 41st USCT regiment was present at the surrender of the Army of Northern Virginia at Appomattox. Following the war, USCT regiments served among the occupation troops in former Confederate states. SERVICE: Guard duty at Deep Bottom, Va., till October 20, 1864. Moved to Fort Burnham on line north of James River, before Richmond, October 27. Battle of Fair Oaks October 27-28. In trenches before Richmond, and picket duty on Chaffin's Farm, till January 1, 1865. Near Fort Burnham till March 27. Moved to Hatcher's Run March 27-28. Appomattax Campaign March 28-April 9. Hatcher's Run March 29-31. Fall of Petersburg April 2. Pursuit of Lee April 3-9. Appomattox Court House April 9. Surrender of Lee and his army. Moved to Petersburg April 11, and duty there till May 25. Embarked for Texas May 25, arriving at Brazos Santiago June 3. Moved to Edenburg and guard and provost duty there till November. Consolidated to a Battalion of four Companies September 30. Mustered out at Brownsville, Texas, November 10, 1865. Disbanded at Philadelphia, Pa., December 14, 1865.
Link to Settlers of Algonquin Highlands family tree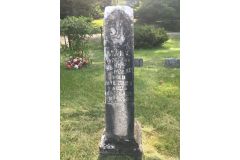 Henry Pearl, b. 25 Oct 1840, Pennsylvania, d. 21 Nov 1923, Snowdon, (Age 83 years). COD: Cerebral Hemhorrage. Buried: Minden Village Cemetery
Mary (Margaret) Patterson, b. 28 Jan 1839, Pennsylvania, d. 20 Mar 1919, Minden, (Age 80 years). Buried: Minden Village Cemetery
Daughter: Eliza Jane Pearl, b. 7 Apr 1862, Pennsylvania,  d. 16 Feb 1909, Lutterworth,  (Age 46 years)
Husband: Charles Edward Thomas, b. 10 Mar 1854, Brantford, d. 14 Jan 1919, Snowdon, (Age 64 years)
Photo: US Colored Troops medal-1865,Smithsonian Museum of American History-2012-05-15. Source: Ancestry.ca kimthomas505 originally shared this on 12 Oct 2012