Settler of township lots: Lot 4, Conc. 3, Guilford (Stanhope area)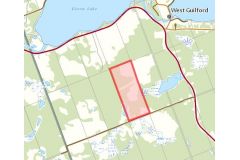 Location: Map point is the approximate location within this 100 acre lot fronting on Irish Line Road.
Land acquisition: 1900 From Robert Cruickshanks, his father. Ontario Land Parcel Register - Guilford (Image 18)
Dates of residency:
1903 Business Directory, Guilford:Geo Cruikshank, Maple Lake, Lot 4, Conc. 3
1911 Census of Canada, Guilford: George & Letitia Cruickshanks
1921 Census of Canada, Humboldt, Sask.
Interesting facts:
Preceding landowner: 1893 Robert Cruickshanks
Succeeding landowner:
1911 George S Cooper North 40 acres; 1912 William Baker South 40 acres
1936 Charlotte Amelia Cooper North 40 acres; 1933 Allan Horsley South 60 acres
Link to Settlers of Algonquin Highlands family tree
George Edward Cruikshank, b. 31 Mar 1880, West Guilford, d. 1958
Parents:
• Robert Cruikshanks, b. Nov 1849, Ireland
• Mary Sisson, b. 12 Feb 1847, Manvers, Durham, Ontario, d. 26 Mar 1917, West Guilford, (Age 70 years)
Lilly Lillian Little, b. 2 Sep 1880, Minden