Settler of township lots: Lot 10, Conc. 5, Stanhope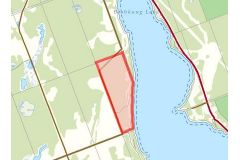 Location: The map point is the approximate location of this 81 acre irregular waterfront lot on Boshkung Lake on the east side of Boshkung Lake Road south from Triple Creek Road to Fern Gully Lane.
Land acquisition: 1913 from Charles Edward Hewitt. Ontario Land Parcel Register - Stanhope (Image 79).
Other land: South half Lot 10, Conc. 6, Stanhope - 1918 from Charles Edward Hewitt; 1960 Margaret Harrison. Ontario Land Parcel Register - Stanhope (Image 83)
Dates of residency: 
1921 Census of Canada, Ontario / Victoria / Stanhope / Page 1, Family 4.
1928 Stanhope Voters List: Fred & Margaret Harrison at Lots 10, 13, 12, Conc. 5, 6
Interesting facts:
First landowner: 1861 William Welch
Succeeding landowner: 19399 Abe Upton part 1/2 acre
Link to Settlers of Algonquin Highlands family tree
Frederick Harrison, b. 7 Jan 1877, Lambton, d. 18 Dec 1959  (Age 82 years)
Parents: John Harrison; Mary Ann Hare
Margaret Ann Russell, b. 23 Feb 1893, Toronto, d. 5 Nov 1984  (Age 91 years)
Family:
1. Loretta Evelyn Harrison, b. 04 Jan 1919, Ontario, d. 25 Oct 2012, Ontario,(Age 93 years)
2. Living