Settler of township lots: Lot 22, Conc. 7, Stanhope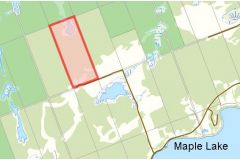 Location: Map point is the approximate location within this 100 acre lot running north from the east end of Dawson Road.
Land acquisition: No record of ownership. Mathias John Barry received the patent in 1927. Ontario Land Parcel Register - Stanhope (Image 136).
Dates of residency:
1881 Census of Canada, Stanhope: Fred & Susanah Thomas with 5 children
1901 Census of Canada, Gravenhurst
1901 Death: Gravenhurst
Interesting facts:
Preceding landowner:
Succeeding landowner:
Link to Settlers of Algonquin Highlands family tree
Frederick Daniel Thomas, b. Abt 1829, England d. 21 Jul 1901, Gravenhurst,  (Age ~ 72 years)
1. Harriet Southam
2. Susannah Fletcher, b. 1842, England 16 Sep 1913, Gravenhurst,  (Age 71 years)