Settler of township lots: Lot 25, Conc. 10, Minden (Stanhope area)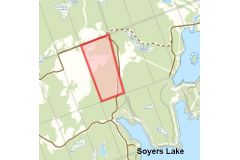 Location: Map point is the approximate location within this 100 acre lot running south from Soyers Lake Road, west of Alexander Road
Land acquisition: 1920 from George Addison. Ontario Land Parcel Register - Minden (Image 192).
Dates of residency: No record of residency in Haliburton; second wife was Sarah Ann Barnum, whose first husband was Daniel Bull.
1916 Canada Census of Manitoba, Saskatchewan, and Alberta: Alberta, Battle River, 16; Roll: T-21947; Page: 11; Family No: 154.
1921 Census of Canada: Battle River, Alberta; Page Number: 7.
Interesting facts:
Preceding landowner: 1884 George Addison from The Crown
Succeeding landowner: 1921 William Nichol
Link to Settlers of Algonquin Highlands family tree
Elias William Hunt, b. 29 Aug 1859, Elgin, Ontario, d. 20 Jun 1932, California, (Age ~ 78 years)
Sarah Ann Barnum, b. 27 Oct 1844, Ontario, d.1922, Ribstone, Alberta, (Age 77 years)
Husband 1: Daniel Bull, b. 7 Aug 1836, Murray, Ontario, d. 27 Feb 1903, Ontario, (Age 66 years)
- Married Hunt in 1914
Photo: Left - E.W.Hunt. Source: Ancestry.ca myrna jensen originally shared this on 26 Nov 2014. Right: Sarah Anne Barnum. Source: Ancestry.ca myrna jensen originally shared this on 26 Sep 2014