Settler of township lots: Lot 14, Conc. 9, Stanhope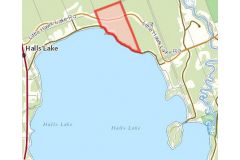 Location: Map point is the approximate location within this irregular, waterfront lot on the north shore of Halls Lake east of Cadge Road.
Land acquisition: 5 May 1911 patented  to son James Upton (b. 1866) who was enumerated at this lot in the 1901 census with wife Annie and family. Ontario Land Parcel Register - Stanhope (Image 149).
Dates of residency: First child born in Stanhope was Albert in 1881 and last child born was John Wesley in 1889.
1881 Census of Canada, Stanhope: Edward & Susan Upton with 5 children
1883 Stanhope Voters List: Edward Upton, owner, Lots 14 & 14, Conc. 9 & 10. Mentioned by Nila Reynolds In Quest of Yesterday by Nila Reynolds. pg. 312
1890 Stanhope Voters List: Edward Upton with no location
1891 Stanhope Voters List:  Lot 10, Conc. 10
1900 Residence:  Morse, Ashland, Wisconsin, USA
1902 Death: Wisconsin
Interesting facts:
Preceding landowner: The Crown
Succeeding landowner:
1911 Richard W. Johnston
1912 George Herbert Clark
1913 James Welch
Link to Settlers of Algonquin Highlands family tree
Edward A. Upton, b. May 1840, Canada d. 06 Apr 1902, Ashland, Wisconsin, USA  (Age ~ 61 years)
Susan (Susiana) Suitor, b. 16 Sep 1843, Ireland d. 8 Feb 1920 USA
Children:
1. William John Upton, b. 18 Mar 1864, Quebec, d. 27 Jul 1874, Quebec, (Age 10 years)
2. James Upton, b. 28 Dec 1866, Quebec, d. 10 Oct 1934, Haliburton, (Age 67 years)
3. Alonzo Upton, b. 12 Nov 1868, Quebec, d. 04 Mar 1934, Stanhope,  (Age 65 years)
4. Alexander Upton,  b. 28 Mar 1873, Quebec
5. Richard Upton, b. 17 May 1876, Quebec
6. Milo Upton  b. 08 Nov 1877, Ontario, d. 19 Dec 1918, Wisconsin, (Age 41 years) 
7. Albert Upton, b. 1 Jun 1881, Stanhope, d. 05 Nov 1949, Tacoma, Pierce, Washington, (Age 68 years)
8. Hatty Upton, b. 30 Jun 1884, Stanhope
9. Fredrick Upton, b. 3 Feb 1887, Ontario, d. 19 Jul 1941  (Age 54 years)
10. John Wesley Upton  b. Sep 1889, Ontario,