Settler of township lots: Lot 30, Conc. 3, Stanhope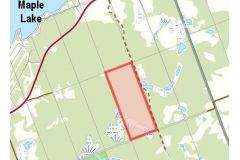 Location: Map point is the approximate location within the 100 acre Lot 30, Conc. 3 on the west side of 30th Line Road.
Land acquisition: No record of ownership. 1873 Patent from The Crown. Ontario Land Parcel Register - Stanhope (Image 471)
Dates of residency:
1903 Stanhope Voters List: Digery Borrows, farmer n pt Lot 30, Conc. 3; Entitled to vote at Legislative Elections only.
1910 Died at Lot 30, Conc. 3 (Stanhope?). Widower, parents not recorded. Informant George Clark. Death registered in Dysart.
Interesting facts:
Preceding landowner: 
Succeeding landowner:
Link to Settlers of Algonquin Highlands family tree
Diggery Burrows, b. Abt 1845, d. 24 Feb 1910, Dysart, (Age ~ 65 years)
Parents:
• Diggery Burroughs, b. Abt 1801, England
• Ann Collie, b. Abt 1827, England 
Sister: Fannie May Burrows, b. 17 Mar 1852, Whitby,  d. 31 May 1935, Dysart, (Age 83 years) who married George Nelson Clark