Settler of township lots: Lot 1, Conc. 9, Stanhope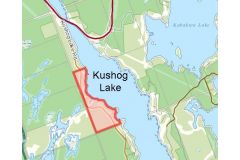 Location: This map point is the approximate location within the 64 acre on the west shore of Kushog Lake south of Ox Narrows around Rose Lane.
Land acquisition:
1870 This 64 acre lot was registered as a Free Grant through the Free Grant and Homestead Act of 1868 under the locatee name David Keers.
1879 Patent from The Crown. Ontario Land Parcel Register - Stanhope (Image 2). 
Other land:
Lot 19, Conc. A, Hindon - all 87 acres from The Crown in 1873. Ontario Land Parcel Register - Hindon (Image 90)..
Lot 4, Conc. 1, Stanhope - 26 Sep 1861 - Stanhope Township Lands Liable to Taxation Register - David Keers. 78 acres. (Jane Grey Stevens received the patent for this land in illegible date. Ontario Land Parcel Register - Stanhope (Image 34).
Dates of residency: No record that he actually lived on this Lot 1, Conc. 9, Stanhope property - his daughter with husband John Crawford was enumerated here in the 1881 & 1901 Census and listed in the 1901 Stanhope Voters List
1870 Peterborough County Directory, Stanhope: David Keers, Lot 21, Conc. A (land owned at this time by Samuel Keers of Parish of Finvoy, County Antrim, Ireland)
1871 Census of Canada: Sherborne, Stanhope
1883 Stanhope Voters List, Legislative Assembly only: David Keers, Minden, Lot 21, 1,1, Conc. 9, 8, 9
1893 Minden Township Directory: David Keers, Minden
1893 Anson & Hindon Townships Directory: David Keers, Minden
1901 Census of Canada: Township of Snowdon
1901 Death of Wife at Lot 14, Conc. 8, Snowden Twp
1911 Living with his daughter and son-in-law in Snowdon Twp
1914 Death: Snowdon
Interesting facts: No reference to him in In Quest of Yesterday by Nila Reynolds. 
David Keers was a Councillor on the first Township of Stanhope Council when the township was formed in 1874.
Obituary of David Keers from the Lindsay Watchman Warder
The death of Mr. David Keers Took place at the residence of his daughter, Mrs. Henry Geeza, Snowdon township, on Tuesday morning, May 19, 1914, following a long life with scarcely any illness.
Mr. Keers was born in Ireland ninety years ago and he and his wife could tell in their lifetime of many events of the early days in their native land. As early as 1869 Mr. Keers settled north of what is now Hindon Hill, later moving to the farm now owned and occupied by Mr. Henry Penrose, in Minden Township, where he lived for many years, moving to Snowdon some eighteen years ago. His wife passed away thirteen years ago and of late years he has lived mostly with his daughter Mrs. H. Geeza.
Deceased had practically no illness and was able to take a short walk outside the evening before he died, passing away without pain on Tuesday morning as above stated.
He is survived by five daughters, namely, Mrs. Henry Geeza, Miss Elizabeth Keers, Mrs. Thos. S. McElwain, Mrs. Wm. McElwain, all of Gelert, and Mrs. E. Sharpless, of Toronto.
The funeral took place yesterday afternoon to Minden cemetery, where a number of his old-time neighbors from Hindon Hill awaited to witness the last rites in honor of one they all respected. He was a lifelong member of the Orange Association.
Preceding landowner: The Crown
Succeeding landowner: 1905 John Crawford (daughter Matilda's husband)
Link to Settlers of Algonquin Highlands family tree
David Keers, b. 5 Jan 1835, Northern Ireland d. 19 May 1914, Snowdon, (Age ~ 78 years) COD: Heart failure, Old age. Buried: Minden Village Cemetery
Eliza Patterson, b. 10 Jun 1840, Ireland. d. 180 Nov 1901, Snowdon. COD: Dropsy. Buried: Minden Village Cemetery
Children:
1. Matilda Keers, b. 1861, Ontario, d. 1895, Ontario, (Age 34 years). Buried: Minden Village Cemetery
2. Jane Keers, b. 22 Jan 1863, Ontario, d. 24 Oct 1934, Gelert, (Age 71 years). Buried: Minden Village Cemetery
3. Elizabeth Keers, b. Abt 1865, Ontario, d. 02 Mar 1921, Ontario, (Age ~ 56 years). Buried: Minden Village Cemetery 
4. Mary Keers, b. 1867, Stanhope
5. Rachael Keers, b. 1870, Ontario,  d. 21 Jan 1873, Stanhope, (Age 3 years) COD: Scarlet Fever. Buried: Minden Village Cemetery.
6, Maria Keers, b. 24 Oct 1873, Stanhope, d. 16 Dec 1901, Haliburton, (Age 28 years)
7. Margaret Keers, b. 31 Mar 1874, Ontario, d. 15 Apr 1945, Snowdon, (Age 71 years)
8. Isabella Keers, b. 31 May 1877, Ontario, d. 24 Jul 1944, North York, (Age 67 years)