Settler of township lots: Lot 3, Conc. 6, Guilford (Stanhope area)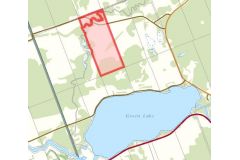 Location: Map point is the approximate location within this 96 acre lot running south from the intersection of Binscarth Trail and Barry Line.
Land acquisition: 1934 from The C .L. & C. Co. Ontario Land Parcel Register - Guilford (Image 11).
Other land: Lots 5 & 6, Conc. 6, Guilford - 1930 from Archie A Morrison. Ontario Land Parcel Register - Guilford (Images 33 & 50)
Dates of residency:
1890 Birth of Daughter Elva Pearl Barry (1890–) Haliburton
1893 Death of Wife Minnunette "Minnie" Barnum( 1869–1893) Haliburton. COD: Diptheria. Her son Charles died very soon after, also of diptheria.
1903 Business Directory, Guilford: Christopher Barry, Maple Lake, Lot 5, Conc. 6
1911 Census of Canada, Guilford: Christopher & Ada Barry
1918 Death of Son Laurie Bertrand at Lot 3, Conc. 6, West Guilford
1942 Death: Maple Lake
Interesting facts: 
Brothers George, James, Mathias, Frank and Christopher Barry came from Dunnville in Haldimand with the their 75 year old father, James Sr. Source: In Quest of Yesterday by Nila Reynolds. Published by The Provisional County of Haliburton, Minden, Ontario 1973 pg. 157
Christopher was born in Guilford, Haliburton, Ontario. He was the husband of two cousins, Minnunette Barnum and Ada Bernice Barnum. Source: FindAGrave.com
To be lost in the rugged bush country north of the settlements was an ordeal few survived. Not long after his arrival from Haldimand County, Christopher Barry was accidentally separated from hunting companions at Cat Bay, on Kennisis. With only a few matches and a small rifle he wandered for 3 days and 2 nights until, his clothing shredded and his boot soles worn through, he staggered into a clearing at Crab Lake where Dick Johnson and Bob Moore had a hunting camp. So terrible was this experience that he never discussed it afterwards. Source: Ibid pg. 161
Preceding landowner: 9 May 1865 The Crown  The C .L. & C. Co
Succeeding landowner:
1936 Arthur Everett Barry, his son
1971 Brown Camping Supplies Ltd
Link to Settlers of Algonquin Highlands family tree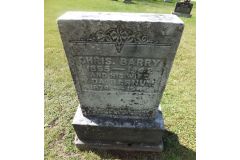 Christopher Doman Barry, b. 07 Sep 1863, Dunnville,  d. 15 Apr 1942, Maple Lake (Age 78 years). Buried: Maple Lake Cemetery
Parents:
• James Barry, b. 24 Jun 1809, England d. 17 Nov 1893, West Guilford,  (Age 84 years)
• Caroline Doman, b. 05 Nov 1834, Switzerland d. 21 Jun 1919, Haliburton, (Age 84 years)
Family 1. Minnunette "Minnie" Barnum, b. 13 Oct 1865, Ontario d. 6 May 1895 Maple Lake  (Age ~ 25 years). Buried: Maple Lake Cemetery
1. Charles Barry, b. Abt 1891, d. 9 May 1895  (Age ~ 4 years)
Family 2. Ada Bernice Barnum, b. 4 Nov 1874, Stanhope, d. 5 Dec 1946, West Guilford, (Age 72 years). COD: Colon cancer. Buried: Maple Lake Cemetery
Parents:
• Father William Barnum, b. Abt 1848, Murray, Northumberland, Ontario
• Catherine Dauncey, b. Abt 1848, Brighton, Northumberland, Ontario, d. 14 Jul 1935, Guilford, (Age ~ 87 years)
1. William Grant Barry, b. 8 Feb 1900, Ontario
2. Arthur Everett Barry, b. 7 May 1905, Ontario, d. 7 Jul 1990  (Age 85 years)
3. Clifford Arnold Barry, b. 7 Jul 1907, Guilford, d. 11 Dec 1992  (Age 85 years)
4. Kathleen Mary Barry, b. Abt 1912, West Guilford, 
5. Laurie Bertrand Barry, b. 1915, d. 18 Nov 1918 West Guilford (Age 3 years). Cause of Death: Tumor in throat causing strangulation; poor development from birth. Buried: Maple Lake