Settler of township lots: Lot 26, Conc. 4, Stanhope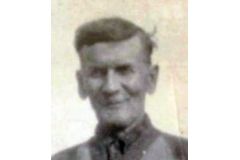 Location: Map point is the approximate location on this 36 acre Maple Lake waterfront east of 25th Line
Land acquisition: 1929 from Joseph Fader in 1929. Ontario Land Parcel Register - Stanhope (Image 349).
Other land: Lot 27, Conc. 4: 1930 from Joseph Fader (father). Ontario Land Parcel Register - Stanhope (Image 417).
Dates of residency:
1901 Census of Canada, Stanhope: Charlie Fader is listed as brother-in-law at Henry Sawyer's Lots 32, Conc. 4 & 5
1911 Census of Canada, Stanhope: Charles & Maud Fader, no children
1911 Stanhope Post Office List
1911 Stanhope Voters List: Lots 26 & 27, Conc. 4
1913 Birth & Death of Son Charles Erman Fader at Lot 26, Conc. 4, Stanhope
1918 Post Office List
1928 Stanhope Voters List: Lots 26 & 27, Conc. 4
Interesting facts:
Dynamite and human sweat brought Highway 35 to Dorset in 1934. Local men like Charlie Fader, a hundred years old in the fall of 1979, still recall their daylight to dark struggle to make a road through the resisting granite ridges. Fader was one of the teamsters whose horses pulled stumps and drew brush for burning. At once the highway opened the townships it crossed to lumbermen who could now move their logs by road rather than river. Source: Echoes of the Past, compiled and written by Ed H. Devitt & Nila Reynolds. p. 25
Wes Guilford was once noted for horse racing. George Barry laid out a half mile track and in the years between 1909 and 1925 held annual races attracting crowds and competition from as far away as Lindsay and Fenelon Falls. Perhaps Charlie Taylor had the most unusual entry, a horse called "Little Tom," which had been trained with the family dog. Should he slacken his pace, the owner only had to clap his hands and yell "sic em!" and the horse, thinking the dog was at his heels, would pass everything in sight. Source: In Quest of Yesterday by Nila Reynolds. Published by The Provisional County of Haliburton, Minden, Ontario 1973 pg. 160
Preceding landowner:
1891 William D. Fader with other lands.
1829 Joseph Fader for $1. He was listed on this lot in the 1901 Stanhope Voters List.
Succeeding landowner: 
Link to Settlers of Algonquin Highlands family tree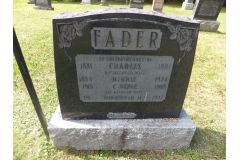 Charles Lucas Fader, b. 20 Jan 1881, Dundas, d. 12 Aug 1981 (Age 98 years) Buried: Maple Lake United Church Cemetery
Parents:
• James Joseph Fader, b. 16 Sep 1839, Ontario, d. 10 Mar 1933, Stanhope, (Age 93 years)
• Hannah Margaret Jones, b. 13 Jun 1845, Ontario, d. 18 Jan 1943, Maple Lake, (Age 97 years)
Minnie Day, b. 1884, Victoria, Ontario,  d. 1974  (Age 90 years)
Children:
1. Charles Erman Fader, b./d. 19 May 1913, Stanhope, (Age 0 years) 
2. Charles Verlan Fader, b. 1915, Ontario, d. 1968 (Age 53 years) COD: Still born