Settler of township lot: Lot 32, Conc. 7, Stanhope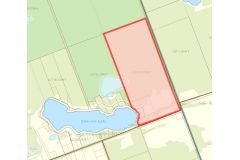 Location: Map point is 115 acre waterfront lot on the north shore of Cameron Lake.
Land acquisition: This settler purchased this 115 acre lot from Ervon Thompson for $225 in 1912 and sold it to Thomas James Jones in 1923 for $250. Ontario Land Parcel Register - Stanhope (Images 187).
Dates of residency:
Lot 29, Conc. 2, Stanhope: Patented 1875 to Robert Samuel Deacon, his brother. Ontario Land Parcel Register - Stanhope (Images 172).
- 1911 Stanhope Voters List
- 1911 Stanhope Post Office List
Lot 32, Conc. 7:
- 1918 Stanhope Post Office List: Chas Deacon, Maple Lake
1921 Census of Canada, Stanhope: Lodging with James & Ethel Fader
Interesting facts:
Preceding landowners:
1890 John Archer from The Crown
Succeeding landowner:
1923 Thomas James Jones for $250
1961 Oran & Ethel Fader for $400
Link to Settlers of Algonquin Highlands family tree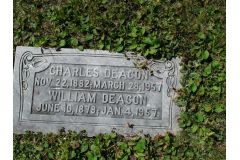 Charles Edward Deacon, b. 21 Nov 1882, Stanhope,    d. 28 Mar 1957  (Age 74 years). Buried: Maple Lake United Church Cemetery
Parents:
• Henry Smith Deacon, b. Abt 1852, Ontario d. 6 May 1927  (Age ~ 75 years)
• Nancy Jane Boyd, b. Abt 1855, Ontario d. 14 Mar 1898, Guilford (Age ~ 43 years)
Brothers:
1. Robert Samuel Deacon, b. 21 Jan 1877, Ontario d. 09 Jun 1955  (Age 78 years)
2. William Henry Deacon, b. 10 Jun 1879, Ontario d. 4 Jan 1957  (Age 77 years) Maple Lake United Church Cemetery