Settler of township lots: Lot 9, Conc. A, Stanhope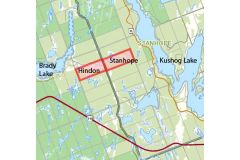 Location: Map point is the approximate location within this 100 acre lot east of Brady Lake Road south of Boyd Road
Land acquisition: Son of Bowes Cecil Wright Sr. (1816 - 1876) who patented 3 lots in his sons' names and 1 in his wife's name.
1869 Lands Liable to Taxation: Township of Stanhope Patent Register. 100 acres to Bowes Cecil Wright.
1869 Patent from The Crown. Ontario Land Parcel Register-Stanhope (Image 30).
Dates of residency: Until his death in 1901.
Interesting facts: Never married.
Preceding landowner: The Crown
Succeeding landowner:
Passed around in the Wright family until 1922
1922: Samuel Crawford for $900 and other land.
Link to Settlers of Algonquin Highlands family tree
Bowes Cecil Wright, b. Abt Sep 1854,  England d. 23 Nov 1901, Stanhope,  (Age ~ 47 years). Buried: Minden Village Cemetery
Parents:
• Bowes Cecil Wright Sr., b. 1816, England  d. 21 Nov 1878, Haliburton (Age 62 years)
•  Margaret Lee b. Abt 1816, England d. 16 Sep 1888, Stanhope (Age ~ 72 years)
Male Siblings: Cecil, William, Charles, Bowes Cecil Jr, Francis Ernest, Walter Edward