Settler of township lots: Lots 8 and 9, Conc. 7, Stanhope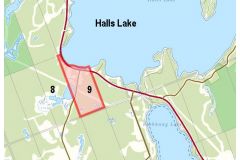 Location: Map point is Lot 9, Conc. 7 at the south corner of Buckslide Road at Hwy. 35 known as the Oliver farm. See Robert Oliver.
Land acquisition: 
1875 Lands Liable to Taxation: Township of Stanhope Patent Register - 101 & 81 acres to Benjamin Trott.
1875 Patent from The Crown. Ontario Land Parcel Register - Stanhope (Images 30 & 38).
Dates of residency:
1881 Census of Canada, Stanhope: Benj & Melina Trott, no children
Note: 1887 City Directory lists Benjamin Trott, carpenter, in Minden
Interesting facts:
The peaceful valley, surrounded on either side by gently sloping hills, was in earlier times the home of Indian tribes; the Hurons and the Algonquins as evidenced by artifacts and arrow heads found buried in the fertile soil by later inhabitants.
Benjamin Trott and his wife Melissa emigrated from England when he was 29 years old and she was 28. They were attracted to the Haliburton area by promises of free land by the Canadian government.
Benjamin Trott obtained 182 acres along the present Buckslide Road. Trott would sell this farming land to Robert James Deacon in 1909, who would then sell the same land to Robert Oliver in 1919. Source: Halls Lake, It's History, Geography, Mythology and Genealogy by Dave Bulford, 2001
The story of the Oliver farm begins in 1871 when the first pioneer settler, Benjamin Trott, began to clear the land of virgin pine to start a farm in the valley of rich, fertile soil on the south side of Hall's Lake, and to prepare for a log dwelling for himself and his wife, Melissa.
These were indeed hard times for the Trotts. It was a harsh and formidable task for a settler to earn a livelihood, raise a family, acquire livestock and farm implements, etc. However, they did persevere for 11 years, living off the land and selling their produce to the lumber camps for cash.
In the late 1879's a sever depression had hit North America. The Trotts may have come to realize that farming in Stanhope Township was not a viable endeavour. The Victoria Railway had reached the town of Haliburton in 1883, bringing new settlers. The railway also brought about a shift in the market, chich did not favour the small producers like the Trotts. At any rate, not having family, they decided to leave the Haliburton area and sold their property to Thomas Godwin in 1883. Source: The Oliver Farm, a brief history 1871- 2002 by A R Oiver, 2002 Pgs 2, 3
Read THE OLIVER FARM, a brief history 1871-2002.
Preceding landowner: The Crown.
Succeeding landowner:
1883 Thomas Godwin for $1,100
1909 James Deacon B&S $1,000 South 52 acres
1916 Robert Oliver B&S North half
1918 Frank Gartshore part
The Oliver Farm, a brief history, 1871 - 2002.
Link to Settlers of Algonquin Highlands family tree
Benjamin Trott, b. Abt 1840, England  d. 23 Jan 1887, Minden, (Age ~ 47 years)
Melina Welch, b. 1841, England d. 30 Mar 1913, Lindsay, (Age 72 years)
Photo: The First Log House Built in 1871 from The Oliver Farm, a brief history, 1871 - 2002.