Settler of township lots: Lot 10, Conc. 10, Stanhope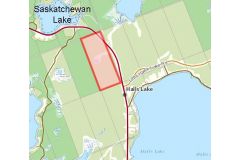 Location: The map point is the approximate location of this 96 acre lot on the west side of Hwy 35 between Shangri La Road and Little Hawk Lake Road.
Land acquisition: 1876 Lands Liable to Taxation: Township of Stanhope Patent Register - 96 acres Benjamin Hewitt BUT Walter Johnson received the patent for this land in 1929. Ontario Land Parcel Register - Stanhope (Image 86).
Other land: Lot 7, Conc. 4, Stanhope: 1889 Ben Hewitt from William Gainer. Ontario Land Parcel Register - Stanhope (Image 82).
Dates of residency:
1871 Census of Canada, Stanhope
1882 Marriage: Mary Carter (1864–) Stanhope
1883 Stanhope Voters List: Benjamin Hewett, owner, Lot 7, Conc. 4
1889 Birth of Son Allan Carter Hewitt (1889–1970), Haliburton
1889 Drowned in Peach Lake while hunting
1890 Stanhope Voters List: Benj. Hewitt, owner, Lots 7 & 4, Conc. 4 & 6 but there is no record of him owning either of these properties, and he drowned in 1889
1891 Stanhope Voters List: Mary Hewitt, owner, Lot 7, Conc. 4, Stanhope
Interesting facts:
Ben being a great bush man, followed lumbering and hunting rather than farming. Ben married Mary Carter, Polly she was called. They moved to Belleville where he was lumbering, but in a few years came back and took upland on Lot 7, Con 4 in the township of Stanhope. He built a home near his parents, James & Peggy Hewitt, and there carried on a little farming. A few years later in 1889 he was drowned while hunting at Peach Lake, leaving his wife and four small children. Mary was unable to provide for the children and had to let some of them go to friends to raise. The youngest, Allan, was only a few months old at the time, so Caleb Davis and his wife, neighbours of William Welch with whom Mary had lived before marriage, took and raised him. Source: James Hewitt Family History. 1967
Preceding landowner: The Crown.
Succeeding landowner:
Link to Settlers of Algonquin Highlands family tree
Benjamin Hewitt, b. Abt 1858, Brantford, d. 26 Sep 1889, Haliburton  (Age ~ 31 years)
Parents:
• James Hewitt, b. Abt 1811, Northern Ireland d. 3 Apr 1899, Stanhope, (Age ~ 88 years)
• Margaret "Peggy" Kempton, b. 1814, Ireland d. 12 Feb 1894, Stanhope, (Age 80 years)
Mary 'Polly' Carter, b. 18 Nov 1863, England d. 13 Oct 1931, Lindsay, (Age 67 years)
Children with Benjamin Hewitt:
1. Elizabeth Matilda Hewitt, b. 21 Aug 1883, Muskoka
2. Lucy Jane Hewitt, b. 12 May 1885, Stanhope, d. 25 Dec 1964, Huntsville, (Age 79 years)
3. William John Hewitt, b. 22 Jun 1887, Stanhope, d. 01 Apr 1967, Washington, (Age 79 years)
4. Allan Carter Hewitt, b. 1 Apr 1889, Stanhope, d. 1970  (Age 80 years)
Husband 2: William James Moore, b. 25 Aug 1862, Simcoe, d. 25 Jul 1940  (Age 77 years)
Children with William James Moore:
1. Lillie Dell Moore,   b. 27 Apr 1892, Stanhope
2. Nellie Ines Moore, b. 18 Jun 1894, Stanhope, d. 10 Sep 1938, Lindsay, (Age 44 years)
3. Mary Myrtle Moore, b. 3 May 1896, Stanhope
4. Cecil McLean Moore, b. 14 Apr 1899, Stanhope,   d. 31 Dec 1918, Sherborne, (Age 19 years)
5. Frederick Basil Moore, b. 22 Mar 1901, Haliburton, d. 26 Jan 1902, Ontario, (Age 0 years)
6. Ethel Winnifred Moore, b. 13 Dec 1902, Stanhope, d. 20 Aug 1984  (Age 81 years)
7. William Maxwell Moore, b. 11 Sep 1908, Boskung, Stanhope, d. 08 May 1991  (Age 82 years)