Settler of township lots: Lot 11, Conc. A, Stanhope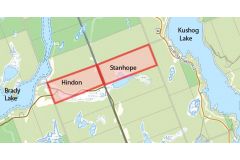 Location: This is the approximate location of this 100 acre lot running east from Rugged Lane (northern extension of Brady Lake Road) towards Kushog Lake.
Land acquisition: 1871 Patent from The Crown. Ontario Land Parcel Register-Stanhope (Image 38).
Dates of residency:
1870 Peterborough County Directory, Stanhope: Archibald Taylor, Lot 11, Conc. A
1871 Census of Canada, Lutterworth, Anson & Hindon: James Taylor 52,  Jenet Taylor 70, Archibald Taylor 50, Daniel Taylor 23, Jane Taylor 20, Robert John Taylor 19, Alexander Taylor 16
1881 Census of Canada, Hindon & Anson: Jenet Hill Taylor 83,  James Taylor 62, Archibald Taylor 60, Daniel Taylor 33, Kate Taylor 19, Sophia Taylor 2
1883 Stanhope Voters List: Archibald Taylor, owner, Lot 11, Conc. A
1890 Stanhope Voters List: Archie Taylor, owner, Lot 11, Conc. A
1891 and 1901 Stanhope Voters Lists
1893 Stanhope Directory: Archibald Taylor, Petersons Crs Lot 12, Conc. A which was unpatented at that time -  Daniel Taylor received it in 1905. Ontario Land Parcel Register-Stanhope (Image 41).
1899 Stanhope Directory: Arch Taylor, Peterson's Cors
1901 Census of Canada, Anson & Hindon: Dannel Taylor 48, Catherine Taylor 37, Jenie Taylor 18, Jessie Taylor 17, Archie Taylor 16, Maggie Taylor 14, Louisa Taylor 12, Dannel Taylor 10, Rachel Taylor 9, James Taylor 7, Corah Taylor 5, Ammie Taylor 3, William Taylor 1, James Taylor 86, Archie Taylor, 85
1901 Death:  Lot 11, Conc. A, Hindon
Interesting facts:
Before the post office was established at Hindon Hill, Archibald Taylor collected his mail at Peterson Corners. Source: In Quest of Yesterday by Nila Reynolds. Published by The Provisional County of Haliburton, Minden, Ontario 1973 pg. 309
Taylor was the brother of James and Daniel Taylor.
Preceding landowner: The Crown
Succeeding landowner:
1919 Daniel Taylor B&S - 1911 Stanhope Voters List at this location.
1928 John Toye B&S
1951 Wesley Crawford
Link to Settlers of Algonquin Highlands family tree. Not listed
Birth: 1816 Antrim, Ireland.
Death: Lot 11, Conc. A, Hindon d. 30 Jul 1901. COD: Old age for 6 months. Reported by Daniel Taylor
Father: Daniel Taylor 1775 - Mother: C. McGregor ? -1817
Spouse: Unknown
Children: None