Settler of township lots: Lot 19, Conc. 5, Stanhope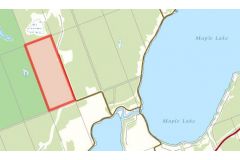 Location: Map point is the approximate location on this 100 acre lot running west from the north end of McPhail Road.
Land acquisition: 1956 from William Ferguson, his father. Ontario Land Parcel Register - Stanhope (Image 139).
Dates of residency: 1921 Census of Canada, Ontario / Victoria / Stanhope / Page 4, Family 39.
Interesting facts:
Preceding landowner:
John Herbert Sisson fromThe Crown
1915 William Ferguson for $150
Succeeding landowner: 
Link to Settlers of Algonquin Highlands family tree
Alven James Ferguson, b. 4 Sep 1918, Ontario, d. 21 Aug 1986, Ontario, (Age 67 years)
Parents:
• William Ferguson, b. 5 Dec 1881, Stanhope, d. 23 Jan 1968, Stanhope, Age 86 years)
• Jane Ethel Sisson, b. 11 Jan 1892, Stanhope, d. 02 May 1971 (Age 79 years)