Settler of township lots: Lot 9, Conc. 4, Stanhope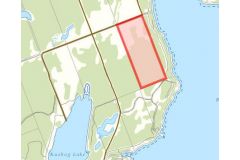 Location: Map point is the approximate location within this 68 acre lot running south and west from Boshkung Lake Road west of Mason Lane.
Land acquisition: 1904 from William Welch in 1904. Ontario Land Parcel Register - Stanhope (Image 101).
Dates of residency:
1899 Stanhope Directory: Alonzo Upton, Boskung
1901 Stanhope Voters List
1901 Census of Canada, Stanhope: Alonzo & Maggie Upton, no children
1903 Business Directory, Stanhope: Alonzo Upton, Boskung
1903 Stanhope Voters List: Alonzo Upton, farmer, s pt Lot 9, Conc. 4
1911 Stanhope Voters List & Stanhope Township Post Office List
1911 Census of Canada, Stanhope: Alonzo & Maggie Upton with 3 children
1918 Stanhope Township Post Office List
1928 Stanhope Voters List
Interesting facts:
Alonzo Upton Obituary 1934 Source: Lydia Coulter Scrapbook Collection – Book 1, Pg 7
On Tuesday afternoon, March 6th, there were quietly laid to rest in Boskung Cemetery the remains of one of Stanhope's most dearly beloved citizens, Alonzo Upton, who passed away in his 66th year. He had been in poor health for a number of years, but his death came as a great shock to his many relatives and friends.

Besides his sorrowing wife he will be sadly missed by his family of two sons and one daughter, namely, Abe of Boskung, Lawrence of Rouyn, Quebec and Winnifred at home. Also six brothers and one sister survive him, James of Eagle Lake, Alex of Dryden, Ont., Richard, Albert, Fred and Wesley of Wisconsin and Mrs. John Allen (Hattie) of Kenosia, Wisconsin.

The funeral service was held at St. Stephen's Church conducted by Rev. H. T. Archibold, R.D., interment taking place in Boskung Cemetery.
Preceding landowner:
1873 Isaac Morey
1895 William Welch
Succeeding landowners: 
1917 Joseph Thompson Beattty-part from William Welch
1925 Angus Coulter part from Beatty
1945 Harold Paull part from Margaret Upton
Link to Settlers of Algonquin Highlands family tree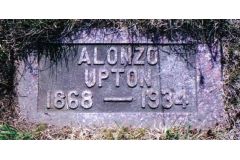 Alonzo Upton, b. 12 Nov 1868,  Quebec, d. 04 Mar 1934, Boskung, (Age 65 years). COD: Pernicious Anemia for 10 years. Buried: St Stephen's Cemetery
Parents:
• Edward A. Upton, b. May 1840, Canada d. 06 Apr 1902, Wisconsin, (Age ~ 61 years)
• Susan Suitor, b. Abt 1843, Ireland 
Margaret Ellen Gannon, b. 31 Oct 1875, Stanhope,

d. 1952  (Age 76 years)

9 Feb 1920 Timiskaming COD: Influenza/Pneumonia
Parents:
• James Gannon, b. 1841, Ireland  d. 10 Oct 1883, Stanhope, (Age 42 years)
• Rachel Taylor, b. 29 Dec 1846, Ireland d. 20 Jun 1931, Stanhope, (Age 84 years)
Children:
1. Abraham Upton, b. 16 Feb 1902, Stanhope, d. 21 Feb 1983, Muskoka, Age 81 years)
2. Rachael Winnifred Upton, b. 21 Dec 1903, Stanhope, d. 27 Mar 1973 (Age 69 years)
3. Lawrence Elmer Upton, b. 26 Oct 1906, Boskung
4. Willie Upton, b./d. 22 Feb 1913, Stanhope, (Age 0 years)