Settler of township lots: Lot 5, Conc. 4, Guilford (Stanhope area)
Location: Map point is the approximate location within this irregular, 83 acre waterfront lot on the south shore of Green Lake west of the river to Pine Lake.
Land acquisition: 1893 from Stephen Benson's will to Richard Benson
Other land: Lot 5, Conc. 3, Guilford, North 60 acres 1918 from George H Sims; 1948 to Kenneth B Sisson. Ontario Land Parcel Register - Guilford (Image 22).
Dates of residency:
1903 Business Directory, Guilford: Alfred Sisson, Maple Lake, Lot 5, Conc. 4
1911 Census of Canada, Guilford: Alfred & Frances Sisson
Interesting facts:
The western portion of the township (Guilford) did not, according to the municipal records, attract buyers until 1872 when Stephen Benson purchased 83 acres on lot 5, conc. 4, on Grass lake which was later owned by Alfred Sisson Sr. There is no record that Benson built a cabin or lived there. Perhaps this was because no road to the area existed until after Boyd bought the pine in the first 4 concessions of Guilford township in September of 1869; he was lumbering in Guilford in 1871. Source: In Quest of Yesterday by Nila Reynolds. Published by The Provisional County of Haliburton, Minden, Ontario 1973 pg 151
Preceding landowners:
1865 The C .L. & C. Co from The Crown
1883 Stephen Benson for $113
Succeeding landowner:
1931 Annie Taylor pt 1/4 acre
Link to Settlers of Algonquin Highlands family tree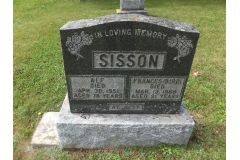 Alfred Sisson, b. 18 Apr 1873, Stanhope, d. 1951  (Age 77 years). Buried: Maple Lake Cemetery
• Mother: Agnes Sisson, b. Abt 1850, Ontario, d. 22 Mar 1931, Haliburton, (Age ~ 81 years) who went on to marry Eugene Packard and have 3 more children.
Frances Bird, b. Jan 1877, Ontario, d. 1968  (Age ~ 90 years)
Children:
1. Chessel Elias Sisson, b. 8 Apr 1899, Guilford, d. 2 Oct 1979  (Age 80 years)
2. Kenneth Benjamin Sisson b. 30 Apr 1902, Guilford, d. 09 Aug 1967 (Age 65 years)
3. Dorothy Charlotte Sisson, b. 15 Nov 1903, Guilford
4. Hilda Jane Sisson, b. 15 May 1906, Guilford
5. Violet Sisson, b. Abt 1914, Ontario