Settler of township lots: Lot 9, Conc. 5, Stanhope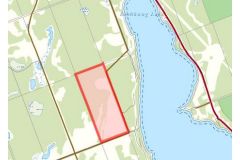 Location: Map point is the approximate location within this 100 acre lot running north and west of Boshkung Lake Road.
Land acquisition: 1917 purchased from Thomas Mason (his father) for $1. Ontario Land Parcel Register - Stanhope (Image 76).
Other land:
Lot 7, Conc. 5, Stanhope: 1902 from Reuben R Henderson; 1948 to Thomas Wilfred Mason. Ontario Land Parcel Register - Stanhope (Image 62).
South half Lots 9 &10, Conc. 6, Stanhope: 1917 from Mary Ann Davis. Ontario Land Parcel Register - Stanhope (Images 29 & 32).
Dates of residency:
1893 Stanhope Directory: Boskung
1899 Stanhope Directory
1901 Stanhope Voters List
1903 Business Directory, Stanhope: A E Mason, Boskung, Lot 7, Conc. 5
1903 Stanhope Voters List: Alfred Mason, farmer, Lots 7 & 9, Conc. 6
1911 Census of Canada, Stanhope: Alfred E & Sarah E Mason with 3 children and Sarah A Bull, domestic
1911 Stanhope Voters List: at this location and Lot 7, Conc. 5.
1911 & 1918 Stanhope Post Office Lista: Alfred Mason, Boskung at Lot 7, Conc. 5
1928 Stanhope Voters List: Lots 6 & 7, Conc. 5; Lots 9 & 10, Conc. 6.
1947 Died at Lot 9, Conc. 5
Interesting facts:
Alfred Mason was one of the sons of Thomas Mason, the patriarch of Stanhope. Alfred assumed the management of the Mason homestead when the encroaching years slowed the steps of the "lion of Warwick." Source: In Quest of Yesterday by Nila Reynolds. Published by The Provisional County of Haliburton, Minden, Ontario 1973 pg. 308.
The favourite sport in Stanhope's early days was baseball. Each settlement boasted a nine, and no summer event, be it picnic, Dominion Day or the Twelfth of July, was complete without a contest between the leading teams. So enthusiastic was the Boshkung group that they thought nothing of, after a hard day's work in the fields, walking 5 or 6 miles from the head of the lake to Guin's Corners where the practices were held. One of the player was Alf Mason. Source: Ibid. pg. 310
On his death certificate, his cause of death was a coronary occlusion. It also records that he suffered from mixed type arthritis for 25 years and had not worked as a farmer since 1938.
Preceding landowner: 1872 Thomas Mason (father) listed on the 1901 Stanhope Voters List.
Succeeding landowner: 1942 Thomas Wilfred Mason (son)
Link to Settlers of Algonquin Highlands family tree
Alfred Ernest Benjamin Mason, b. 05 Mar 1871, Stanhope, d. 17 Feb 1947, Stanhope, (Age 75 years). Buried: St Stephen's Cemetery
Parents:
• Thomas Mason, b. 17 Feb 1829, England d. 14 Dec 1932, Stanhope, (Age 103 years)
• Amy Ezelda Clark, b. 1832, Ontario, d. 09 Mar 1903, Stanhope, (Age 71 years)
Sarah E. Davies, b. 06 May 1875, Wales  d. 07 May 1953, Haliburton (Age 78 years)
Parents:
• John Davies, b. Abt 1829, Wales
• Hannah Jones, b. 10 Oct 1833, Wales  d. 17 May 1911, Stanhope, (Age 77 years)
Children:
1. Myra Amy Mason, b. 09 Sep 1902, Haliburton, d. 15 Oct 1982  (Age 80 years)
2. Thomas Wilfred Mason, b. 04 Mar 1909, Boskung, d. 09 Sep 1994  (Age 85 years)
3. Elvin Walter Johnson, b. 14 Feb 1914, Ontario,  d. 13 Jun 1999  (Age 85 years)  [Adopted]
Photos Left: Portrait photo on board 7 x 5, woman - bun in her hair, sitting with small child sitting on table identified as Sarah (Davies) Mason (wife of Alfred) and Myra Mason (daughter). Stanhope Museum Photo Collection - Alfred E. Mason Wife & Daughter 006.02.121.jpg. Right: Photo on board, 5 1/2 x 4, Sarah (Davies) Mason with Myra and Puddy the dog (fox terrier) in carriage, child has bow in her hair. At Boskung farm. Stanhope Museum Photo Collection - Alfred E. Mason Sarah & Myra 006.02.123.jpg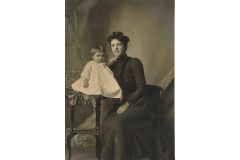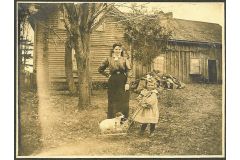 Photo 3: Standing Left to right - Alfred Mason, Sarah Mason, Wilfred Mason, Muriel Brown, Jamie Chambers, Doug Brown, Frank Chambers. Front row Left to right - Keith Chambers, Norma Chambers, Madelaine Bailey, Myra Mason, Bill Chambers, Nellie Chambers, Alice Chambers. Wilfred married June Harrison when he was 61 and he was 20 years older than June. They did not have children. Source: Peter Hewitt's Photo Collection 'Mason.doc'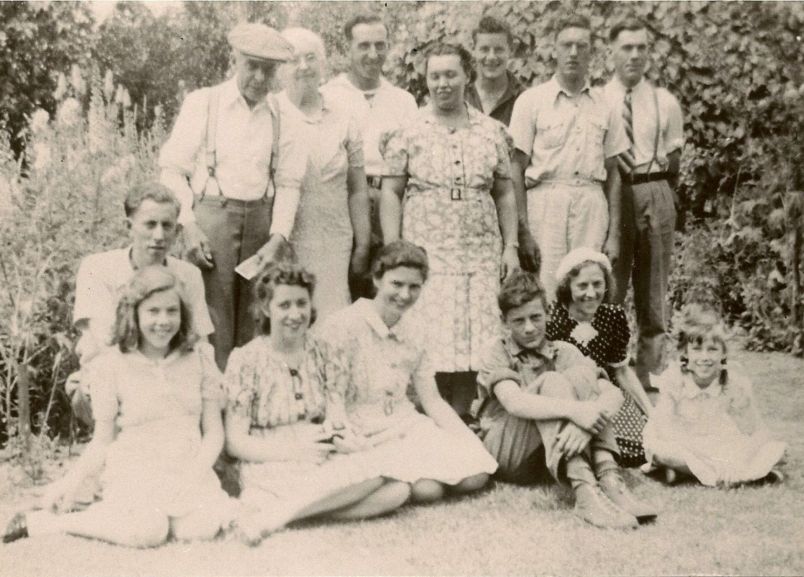 Alfred Ernest Mason 1947 Obituary. Owner/Source Lydia Coulter Scrapbook Collection - Book 5, Pg 20 File name Alfred Ernest Mason 1947 obituary LC5 pg 20.jpg