Settler of township lots: Lot 4, Conc. 5, Stanhope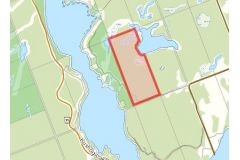 Location: Map point is the approximate location within this 98 acre lot west of Coulter Lake north from Switchback Drive east of Kushog Lake.
Land acquisition:
1869 This 98 acre lot was registered as a Free Grant through the Free Grant and Homestead Act of 1868 under the locatee name Alexander Beatty.
1869 Lands Liable to Taxation: Township of Stanhope Patent Register - 98 acres to Alexander Beatty BUT there is no patent for this lot. Ontario Land Parcel Register - Stanhope does not have a page for this lot.
Dates of residency: 
Interesting facts: 
The favourite sport in Stanhope's early days was baseball. Each settlement boasted a nine, and no summer event, be it picnic, Dominion Day or the Twelfth of July, was complete without a contest between the leading teams. So enthusiastic was the Boshkung group that they thought nothing of, after a hard day's work in the fields, walking 5 or 6 miles from the head of the lake to Guin's Corners where the practices were held. One of the player was Sandy Beatty. Source: In Quest of Yesterday by Nila Reynolds. Published by The Provisional County of Haliburton, Minden, Ontario 1973 pg. 310
Preceding landowner: 
Succeeding landowner:
Link to Settlers of Algonquin Highlands family tree
Alexander Beatty. b. Abt 1837 Ireland. d. 18 Nov 1869, Ontario. Occupation: Builder. COD: Blood vessel broke, instant. Informant on death registration was Joseph Beatty, farmer, Stanhope.