Settler of township lots: Lot 2, Conc. 2, Guilford (Stanhope area)
Location: Map point is the approximate location within this 100 acre running south from the near the west end of Irish Line Road.
Land acquisition: 1865 from The Crown. Ontario Land Parcel Register - Guilford (Image 109).
Other land:
Lot 1, Conc. 2, Guilford - 1883 from John Smyth (second wife's first husband); 1918 to John Morrison. Ontario Land Parcel Register - Guilford (Image 106).
Lot 3, Conc. 2, Guilford - 1905 from William Priest; 1911 to William Baker. Ontario Land Parcel Register - Guilford (Image 111).
Dates of residency:
1881 Married Margaret Ann Morrison in Haliburton
1887 Birth of Daughter Helena Mary Baker (1887–1968) Twp of Guilford
1903 Business Directory, Guilford: Alexander Baker, Maple Lake, Lot 2, Conc. 2
1911 Census of Canada, Guilford: Alexander & Ella Baker
1913 Married Margaret Ann Faulkner in Carnarvon
1932 Died in Haliburton
Interesting facts: 
The years before 1885 saw a steady influx of homesteaders to West Guilford, including Alec and William Baker. A logging firm called McArthur and Thompson were cutting in the area. In Quest of Yesterday by Nila Reynolds. Published by The Provisional County of Haliburton, Minden, Ontario 1973. pg 155
Scattered stones of varying dimensions deposited by the melting glaciers were a major hazard facing a farmer. A settler on Guilford's Irish Line, Alex Baker, owned a particularly lever field whose only drawback was an abundance of such stone. Determining to clear the field for all time, Baker and his sons picked stone every spare moment for 3 long years. When the field was as smooth as the butter his wife produced with her dash churn, Baker relaxed and congratulated himself on next year's bumper harvest. Come the spring and his elation evaporated. The winter's frost had worked a whole new crop of rocks to the surface. Alex Baker always swore they grew there! Source: Ibid. pg 43
Son of Alexander Baker & Sarah Anne Holahan. Alexander was born in Drumcrow Townland, Co. Cavan, Ireland, according to family research.
Alexander and his brother William farmed all their lives. They lived for many years beside one another on what is now called the ''Irish Line'' in Haliburton, Ont. First wife Margaret Ann Morrison was the daughter of Alexander Morrison & Mary Craig. Lived and died on Lot 4, Con. 4, Guilford Twp., Haliburton, Ont. and she and her husband Alexander had at least 10 children. Source: FindAGrave.com
Preceding landowner: The Crown
Succeeding landowner:
1906 Margaret Ann Baker, his wife
1913 John Morrison
1931 Sarah Jane Morrison
1961 John James Morrison
1962 Casey Somerville
Link to Settlers of Algonquin Highlands family tree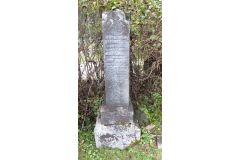 Alexander Baker, b. Dec 1856, Ireland d. 17 Dec 1932, Dysart, (Age ~ 76 years) COD: Chronic nephritis. Buried: Maple Lake Cemetery
Wife 1. Margaret Ann Morrison, b. 14 Apr 1865, Alliston, Ontario d. 4 Jun 1909, Maple Lake. COD: Tuberculossis. Buried: Maple Lake Cemetery-photo at right
Parents:
• Alexander Morrison, b. 25 Mar 1832, Ireland d. 7 Oct 1920  (Age 88 years)
• Mary Craig, b. 1839, Ireland d. 8 Sep 1906  (Age 67 years)
Children:
1. Elizabeth Ann Baker, b. Sep 1882, Deseronto, Ontario, d. 16 Apr 1950 (Age ~ 67 years)
2. William Alexander Baker, b. 1885,   d. 09 Apr 1961  Age 76 years)
3. Helena Mary Baker, b. 23 Mar 1887, Guilford d. 1968, Saskchewan
4. Bertha Jane Baker, b. 4 Apr 1889, Haliburton d. 8 Dec 1894, Haliburton  (Age 5 years). Buried: Maple Lake Cemetery
5. Margaret (Maggie) Luella Baker, b. 23 Feb 1892, Haliburton d. 30 Nov 1894, Haliburton (Age 2 years). Buried: Maple Lake Cemetery
6. Sarah Ella Jane Baker, b. 19 Aug 1895, Guilford d. 31 Mar 1974, Lakefield
7.Bertha Lavin Jane Baker, b. 28 May 1898, Haliburton d. 8 Mar 1968
8. Marjorie Edith Baker, b. 4 Feb 1901, Haliburton
9. Reta May Baker, b. 24 Oct 1903, West Guilford
10. Edward Leslie Baker, b. 15 May 1907, Haliburton d. 21 Nov 1955, Toronto
Wife 2. Margaret Ann Faulkner, b. Aug 1845, Ontario,  d. 25 Dec 1915, Dysart, (Age ~ 70 years)
• First Husband: John Abraham Smyth, b. 1841, Ringwood, York, Ontario, d. 24 May 1911, Stanhope, (Age 70 years)
Children:
1. Hannah Garret Smyth, b. 1870, Whitchurch-Stouffville, d. 3 Oct 1907, Stanhope, (Age 37 years)
2. Mary Ann Smyth, b. 1876, Uxbridge, d. 31 Oct 1886, Stanhope, (Age 10 years)
3. Margaret Sophia Smyth, b. 6 Aug 1880, Stanhope, d. 18 Feb 1881, Stanhope,  (Age 0 years)