Settler of township lots: Lot 25, Conc. 1, Stanhope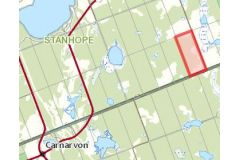 Location: Map point is the approximate location of this 98 acre lot which runs west from 25th Line Road and north from Tulip Road.
Land Acquisition: Patent from The Crown. Ontario Land Parcel Register - Stanhope (Image ).
Dates of residency:
1921 Census of Canada, Reference Number: RG 31; Folder Number: 93; Census Place: Dysert (Township) including Village of Haliburton, Victoria, Ontario; Page Number: 8.
1921 Census of Canada, Ontario / Victoria / Stanhope / Page 5, Family 48. Lodger in the home of uncle Mathias Barry.
Interesting facts:
Preceding landowner:
1971 The Crown to William John Begg
1884 John Brown for $130
1904 John Thomas Mason for $200
1911 Thomas Alfred Bruce Mason (his son) for $231
Succeeding landowner:
Link to Settlers of Algonquin Highlands family tree
Albert Leroy Carr, b. 13 Jan 1906, d. 12 Jul 1985 (Age 79 years)
Brittan Alexandra Mason, b. 9 Nov 1906, Carnarvon, Stanhope, d. 18 Apr 2000 (Age 93 years)
Her Parents:
• John Thomas Mason,   b. 1 Apr 1866, Stanhope, d. 19 Jun 1941, Stanhope, (Age 75 years)
•  Alexandra Euphemia Chambers, b. 07 Jan 1871, Peterborough, d. 19 Mar 1959 (Age 88 years)
Her Grandparents:
• Thomas Mason, b. 17 Feb 1829, England d. 14 Dec 1932, Stanhope,(Age 103 years)
• Amy Ezelda Clark, b. 1832, Ontario, d. 09 Mar 1903, Stanhope, (Age 71 years)