Settler of township lots: Lot 2, Conc. 7, Livingstone Twp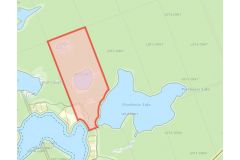 Location: Map point is the approximate location between Fletcher Lake and Poorhouse Lake
Land acquisition: No record of ownership
Dates of residency: 
1893 Haliburton Directory: Albert Russell at Lot 20, Conc. 11; Dorset Post Office
George Russell & family, as well as lodger James H Sawyer, were enumerated at this lot on the 1901 census. 1901 Census of Canada - Peterborough East, Livingstone, Lawrence & Nightingale Subdistrict Q
Interesting facts: George's occupation in 1901 was a Guide.
Preceding landowner:
Succeeding landowner:
Link to Settlers of Algonquin Highlands family tree George Albert Russell 1875