Settler of township lot: Lot 9, Conc. 10, Livingstone Twp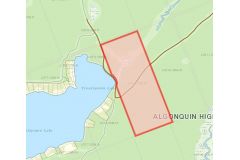 Location: Map point is the approximate location on Troutspawn Lake at the end of Troutspawn Lake Rd.
Land acquisition: No record of ownership. No page in Ontario Land Parcel Register. 
Other residents: 1890 Livingstone Voters List: Charles Baker is listed as owner
Dates of residency: 1897 and 1899 birth registrations of daughter and son.
Interesting facts:
Robert Clayton's wife Mary Ellen Dart filed a delayed birth registration for her daughter Emily's 1897 birth in 1942. She stated that in 1897, her husband Robert Clayton had been a cattle buyer in Livingstone Township.
In 1899, Robert Clayton was farming on the shores of Troutspawn Lake. according to the birth registration of son Robert Jr..He had moved to Bracebridge by the time of the 1901 census & was employed as a tanner.
Preceding landowner:
Succeeding landowner:
Link to Settlers of Algonquin Highlands family tree Robert John Clayton 1899