Settler of township lots: uncertain, but his sons Abe and Charles owned Lot 2, Concession 11, McClintock, by 1898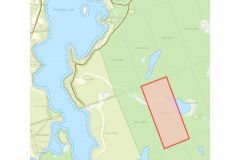 Location: Map point is Lot 8, Conc. 10 McClintock Twp on McCann Lake
Dates of residency: 1893 Haliburton Directory at Lot 6, Conc. 11; Dwight Post Office
Interesting facts:
The McCanns came to the Muskoka area (either Stephenson or Brunel) sometime between 1871 and 1881.  John Wesley McCann is said to have been born in 1824 in Ontario, and had been a farm labourer in the township of Goulburne in Carlton county, near Ottawa, at the time of the 1871 census.  Anecdotally, this meant he didn't own his land.  So they probably came to the Muskoka are in the 1870s in order to become land owners.  But by 1881 he was calling himself a farmer.  In Carlton, they were living in a significantly Irish community.  
At some stage, the family moved to New York - they are recorded in the US Census of 1860 as landowners in Bangor, New York.  It is possible that they moved back because of the Civil War, but this is conjecture. Ten years later he is in Muskoka and is a landowner again.  Abraham was born after the family returned to Canada.
In the 1800s the McCann's built a 2-room, hand-hewn log cabin on the eastern shore of Oxtongue Lake, and sold it to Dr. Edwin Lewis in 1904, who brought it across the lake on skids over the winter and established Lewis Camp.
There is still a small lake off the south-western shore of Oxtongue named after the McCann family, accessible via the snowmobile trail off Harris Rd.  This might be the original homestead of John Wesley, although we have not yet found record of this.  
Preceding landowner: The Crown

Succeeding landowner:

Link to Settlers of Algonquin Highlands family tree John Wesley McCann 1824 -