Settler of township lot: Lot 6, Conc. 11 McClintock Twp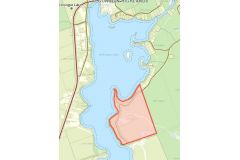 Location: Map point is the approximate location on the east shore of Oxtongue Lake at the south end of Harris Rd including Daisy Trail
Land Acquisition: 1904 Patent from The Crown for 26 acres. Ontario Land Parcel Register - McClintock (Image 35).
Dates of residency:
1891 McClintock Voters List at Lots 1 & 6, Conc. 11, McClintock
1893 Haliburton Directory: Abraham McGann at Lot 4, Conc. 11; Dwight Post Office
1956 Edworthy Cottage, Lot 6, Concession 11: James and Jane Shanks from Hamilton had stayed in rental cottages in the Dorset area. They kept coming back because they enjoyed the picturesque countryside and solitude of the forest. Each time, with family in tow, they searched for a piece of land to build their own little cottage. That search took them to Oxtongue Lake. In the spring of 1957, an outside company built a shell. That June, family members cleared a 15 foot path from the cottage to the lake. The rest of the lot was dense bush. Slowly, the lot was cleared to allow a view of the lake, a well was dug, a spetic system was installed and the inside of the cottage was finished. A boathouse was late added. James passed away in 1959 and Jane in 1970. Daughter Georgena and her husband, Ken Edworthy, took ownership. Ken passes away in 1989. The "brown log sided cottage with the white trim" has slowly evolved. Two main additions have been added and a new septic system installed. The Shank's dream was to have a place of refuge from the fast pace of the city. Their legacy has been cherished by their family for over 40 years. Submitted by G. Edworthy. Source: Facts and Fables of Oxtongue Lake, 2000 pg. 80

1961 Ed & Velta Baumanis, Lot 17A, Harris Rd. Lot 6, Concession 11: This cottage was originally purchased from Mr.s Harris in 1961. A new Viceroy Cottage was built in 1971. We came to know Oxtongue lake some years before 1961. We like the area, the Lake, the unspoiled nature. When an opportunity came, we were lucky to become part of this wonderful place. Submitted by E Baumanis Source: Facts and Fables of Oxtongue Lake, 2000 pg. 66
Ownership History: Source: Facts and Fables of Oxtongue Lake, 2000 pg. 115
In 1904 Abraham McCann of the Town of Huntsville purchased 26 acres from the Crown for $1.00/acre
1937 Ken & Mary Milne purchased from McCann
1945 Robert Harris purchased from Milne
1956 J. Shanks & Robert Harris are on file as owners
1957 James Harold Stevenson, Harris & Shanks are on file as owners
1958-1959 Stevenson built the cottage
1973 Stevenson sold to Harvey & Edith Spiers who renovated and added a living room
1979 Speirs sold to Kenith & Dolores McCormack:
• Ken and Dolly McCormack have been living on the lake since 1947 when his parents A. B.H & Christina purchased the little white cottage. We were there, and at Stuart Beemeer's cottage until we bout our own.
Preceding landowner: The Crown
Succeeding landowner: See above
Link to Settlers of Algonquin Highlands family tree Abraham Lincoln McCann 1866 - 1939