Elinor Hamilton's Interview with Yvonne Penney c1983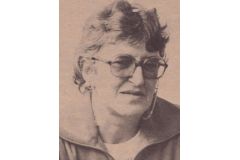 Who were your ancestors, Yvonne?
My Grandparents were Richard and Minnie Fry. Grandpa was a blacksmith with a shop close to Carnarvon where Highways 35 and 118 meet, and it was on the edge of a swamp. They lived in a house on what is now Highway 118. Grandpa had a grocery store; Grandma had a large garden. I have one of her peony bushes out in my garden now.
Richard came from England and was a staunch Orangeman. Minnie's people came from Ireland and lived on the other side of Twelve Mile Lake for quite a few years; then moved over to the Week's property on Twelve Mile right where the cottages are now. Her father sold all that property for $2,500.00 - they didn't realize what tourism would be today - who did??
Grandpa Fry died on Christmas day in 1932; Grandma Minnie died in 1936. They lived a little farther down the road from us and we had a path through the woods to their place.
On Hallowe'en night instead of candies Grandpa would throw down a handful of those big pennies - I remember scrambling on that dirty floor to retrieve those pennies - it was a lot of fun.
My parents Eva and Clifford Harrison were married June 18, 1914. I imagine Eva's parents gave them this property where we are now - about 60 acres. They just had a travelling Minister up here then - he came every once in a while. Their beautiful marriage certificate was all rolled up and marked, but I took it to Perfect Prints and it's upstairs in a frame, and I treasure it.
What was it like to grow up here?
This house was built about 75 or 80 years ago and there were 10 of us. One big room upstairs had beds all over the place - more like a dormitory. We were all home at one time; my older brother said that he went out hunting one morning (they had brought a bed downstairs for Mother) and when he came home "There was another squalling brat!" - that was me.
There are only 3 girls left now - all the boys are gone. Richard was the eldest. He lived on Highway 35 across from the Millpond Restaurant and worked in the liquor store in Minden. Orville worked for County Roads; brother Ken, the youngest, married a local girl here before moving out to B. C. He died about 2 years ago.
Norma, the oldest girl, is alive in a Nursing Home in Peterborough. Evelyn changed her name to June (we had an aunt who changed her name to June, so my sister thought if Auntie could do it - so could she!) Winnie lived at Maple Lake. Fern was next - she lived in Bowmanville and was Manager of the Royal Bank there; then she moved to Edmonton and that's where she died about 3 years ago.
Iris and I (Yvonne) we were so close and we used to fight....who would do the dishes, who would do the floor....we fought over everything. But now we get along fine - we were just typical kids. We used to pick strawberries in the field up here and we got smart and filled the bottom of the basket with leaves and put the berries over them and we'd come home and say "Here, Mom, here's a basket of berries". Mom soon caught on, and then we had to fill the basket before we could go swimming - and we were anxious to get going.
What were Sundays like then?
Mom and Dad belonged to Zion United Church nearby; my Dad was an Elder for years and they always attended church. If you didn't have your shoes cleaned and polished Saturday night, you wore them to church dirty! No unnecessary work was done on a Sunday... even the potatoes were peeled the day before.
Our whole life revolved around that church - we went to Sunday School; then on Friday nights it was Young Peoples - just fun and games and lots of singing. The music teacher for the County was Mr. Ralph Hussey - there's a picture of him in the church. He did a lot for the children around here; without him we would not have had much - he was great! He used to take us to Toronto on trips to the Kiwanis Music Festival and he would drive his own car down there. There weren't any seatbelts in those days so you weren't limited to the number of passengers.
Tell me about your home life.
Nothing was easy back then; my Mother died at 56 just from hard work. She had a wringer washer outside, but we had to heat water inside on the wood stove and carry it out. Before that, she only had a big square tub and scrubbing board.
We had cows and a horse; the cream separator, of course, had to be cleaned every day - and what a chore!
Mother would be up early every morning making breakfast - she'd make a big pot of oatmeal porridge the night before and put it in a double-boiler on the back of the stove. Maybe one Sunday a month we'd have cold cereal. All the water we used we had to carry from the well, and of course we had to fill the reservoir in the stove every night too. It was years before we got a hand-pump inside.
We ate well- we certainly never went hungry. The boys and Dad hunted deer - that was our staple meat over the winter. Mom used to cook and seal it in bottles. It was good that way with the jelly on it, and she made our own pork and beans.....that was our favourite meal - venison and pork and beans!! That's what we lived on – and faith! The men fished for trout in any of the lakes around here - Boshkung and Twelve Mile. Back in those days there were lots of fish.
Mom baked her own bread, and she had a big garden: potatoes, carrots, turnips, anything that would keep over the winter. We certainly didn't have any green vegetables in the winter, but Mom always had a huge pot of soup and she preserved a lot of berries. We had a dug-out basement where she kept everything. I remember picking potatoes bugs off the plants in the summer; we put the bugs in coal oil and that would kill them.
Dad had a bit of a farm here and grew food for the cows and our horse "Napoleon", and we had chickens. Mother milked the cows twice a day - along with everything else she had to do - especially when Dad was away all winter at the lumber camp. She made her own butter and buttermilk - on a warm day that would be a real treat. We were pretty much self-sufficient except for flour, sugar and beans. Mom had a big pot on the wood stove for jam and making preserves, and that was our warmth, too. The oil stove in the parlour wasn't lit very often as it was too expensive and the children weren't allowed in there unless we had company.
We had an apple tree and a crab apple tree - Mom preserved the crab apples and served them around a venison roast. We didn't have a freezer, of course, but we kept venison and anything else hung up in the woodshed. Nothing would keep in the warm weather, but the boys hunted in the spring; the Game Warden knew them and knew they had to hunt for food so he looked the other way. We had rabbit stew, we also ate our own chickens, and later on my brother raised turkeys. Then the oldest boy started work on Highway 35 construction, stayed in the camps and came home on weekends.
We bought our staples from Tom Rogers who had a store over where the Hair Lounge is now. Later his son Clayton took over, then it was sold to Gord Allcorn who was a favourite of mine. He was a great man. We bought beans, flour, and sugar: everything came in hundred-weight bags, and I'm sure we used to get some bargains, because he knew what it was like to have a bunch of kids, and he only had two boys.
What did you do for entertainment?
Sinclair Russell had a dance hail up the road a little ways; I was too young to go, but my older sisters and brothers went. I could hear the music from our upstairs bedroom.
We never had a car, so we never went to Minden or anywhere. My brother-in-law, Winnie's husband, was such a nice man; he had an old DeSoto and used to take us up to Algonquin Park for a day every once in a while. That was a real trip! We'd make ice cream in the ice-cream maker and pack a lunch, and it was truly an adventure.
What was Christmas like then?
During the Depression I remember there were times we never got anything except a dish of nuts and an orange - a real treat. I do remember one Christmas there was a green tam at the store, and Oh I coveted that tam! My brother gave that to me for Christmas and I was so thrilled to wear it to church. In those days we didn't expect much, and all the kids around us were the same.
Was there a Polio scare up here then?
Yes, there was a young girl who contracted it. The Red Cross helped her and eventually she got an artificial leg, but she always walked with a bit of a limp. Our family managed to stay healthy. We were outside playing all the time, even in the snow.
We had a small hospital in Minden - a Red Cross Outpost Hospital - Dr. Agnes Jamieson was the doctor. She'd even ski if she had to get to a patient. She would do anything for you; she was a wonderful woman, and just a little bit of a thing! There was diphtheria in the area for a while and I know my Mother was concerned about it, but we never caught it. I've always had good health - up 'til now anyway. No broken limbs or anything serious like that.
Years later when Dad lived here alone he fell down stairs - all 14 of them. He didn't break anything, but it was such a scare.
Dad never drove a car in his life - and he died in a car accident! He was riding with my brother over in Bracebridge; we don't know exactly what happened but my brother never got over it. He said he felt Dad's hand on his shoulder during the funeral, and that helped him some. The little dachshund died too.
Do you have some things of your Mother's?
Only a few plates, a lovely platter, and upstairs is a washstand. This sideboard was Mother's pride and joy - it was in the parlour so it was out of bounds for the children. I've had it refinished and it has many happy memories for me.
Photo: Yvonne Penney in The Times, January 3, 1979