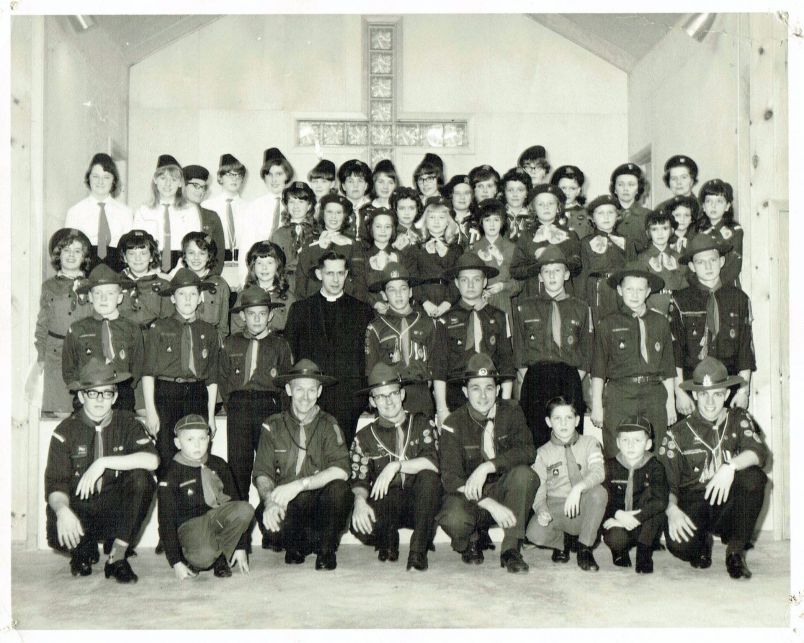 Photo: Stanhope Museum / Sinclair Russell
An excerpt from "The Gregory-Moore Connection"
Copyright - Fred. W. Gregory - All Rights Reserved

Local Scouting began in Haliburton County in 1947, by the Gregory family of Carnarvon, with the formation of a Lone Scout Patrol at Zion United Church in Carnarvon, comprised of four boys, Craig Windsor, Neil Russell, Wilf Hewitt & Richard Bone, with Fred Gregory as their Lone Scout Patrol Counsellor. Growing up in the country gave them a decided advantage over their city counterparts, and they quickly passed all outdoor tests and badge requirements. Several walking and canoeing trips prepared them for a two week "out trip" enrolment at Camp Endobana at Norland, Ontario, the second largest Scout Camp in Canada, owned & operated by the 23 Toronto Scouting group with over 200 fathers in the Group Committee and over 200 mothers in the Mother's Auxiliary, circa 1946.
When Fred left to join the Royal Canadian Mounted Police, in 1950, his father, H.E. "Jack" Gregory took over as Counsellor and then Scout Master and quickly expanded the Patrol to a full size Scout Troop, adding Wolf Cubs, Girl Guides and Brownies, along with a Group Committee and with his wife, Hazel Gregory's help, the Mother's Auxiliary. The Christian Education Building at Zion United Church was used as a Community Centre for the Camarvon area and members of all faiths made use of the facility and took part in the groups functioning there, including the first local Scouting group in the County.
The annual Scout Day Church Parade, at Zion United, was a colourful event with flags and pennants from dozens of Scout Troops & Cub Packs; from Northern Lights Scout Camp, plus members of many troops in the Niagara Frontier Council region of Buffalo New York, and the 26th Hamilton Troop, and other Hamilton, Ontario region Troops, both camps located a few miles north of Carnarvon, along with the 1 Carnarvon Troop, and representatives from the 198 Toronto Troop (Glebe Rd. United Church) and the 23'' Toronto Troops (St.Clements Anglican Church).
Some of the other later leaders and assistants, Alvin Johnson, Bob McBrien, Norm Wallace, John Muise, Lloyd Johnson and Ron Fennel!, Lii Rawlings headed up the Guides & Brownies.