Geographic location: Lot 16, Conc. 1, Stanhope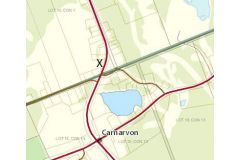 Current address: 15561 Hwy 35. Francis Thomas Contracting
Ownership History:
1872 Patent from The Crown John Fitzsimmonds all 100 acres
1892 William Cowan Tax Deed from Warden
1900 Richard Fry pt 
1905 John Cowan
1911 Wesley Harrison
1927 Robt Cowen
1914 James Harrison
1925 Wesley Harrison, son of Henry 1918
Interesting facts:
Eric Cross was an apprentice at Gregory's Garage across the road. He repaired trucks and construction equipment
Thomas Contracting celebrates 85 years in business
By Chad Ingram, The Tiimes, Wednesday, June 12, 2019
It was out of necessity that a young Francis Thomas went into business for himself in 1934.

"The best of what we get out of our family talks, and what Francis had said many, many years ago, was that he had worked for a builder as a young fellow, and the first summer or half-summer he put in, he didn't get paid," says Keith Thomas, Francis's grandson, the current owner of Francis Thomas Contracting. "And things were pretty tight, and he decided he could do it himself. So that's when he started actually doing the work on this own – he had to."

Francis was just 15 years old at the time, assisted by his father, Frank, who was in poor health. Francis began constructing buildings, "as well as a lot of working with horses," Keith says.

"Clearing land, stuff like that," adds wife Susan, seated with her husband and children, Brandon and Britt, in the former house that serves as the company's office along Highway 35 in Carnarvon. For many years, the house, built in 1942, was Francis's home, his father living in the house next door. The business has been run from the same property throughout its entire existence, Francis having grown up on Twelve Mile Lake, just south of the village.

"It was all either hand labour, or horse labour," Keith says of his grandfather's work in the early years of the business. "And then in the wintertime, they logged." Much of that logging took place in the areas around Austin Lake and Black Lake.
"The office that they worked out of up on Black Lake is still there," Keith says, explaining it's used as a trapper's cabin.
Keith's father Allen, the eldest of Francis's three sons, spent his first winter at a logging camp when he was not even a year old.

"As Haliburton County grew, they sort of switched more into looking after the summer people," Keith says, explaining this meant constructing cottage roads, clearing lots and building cottages as cottaging boomed in popularity. The Thomases also cut ice from local lakes. Stored in ice houses, it was delivered to cottagers and resorts. Over the years, the company has moved entire cottages across lakes, whether it be by snowmobile and ATV during the wintertime, or on barges during the summer.

Along with Allen, his brothers Garwood (Bud) and Roger also worked for their father. "Without those guys, we wouldn't be here," Keith says of his father and uncles.

The introduction of hydraulic technology would mark a major transition for the company. "I think it was the late '50s, early '60s, when the hydraulics started coming into the world," Keith says. It was at that point the Thomases began pouring foundations, which has become the base of the family business. "This company is one of the first original three companies in the county that did foundations," Keith says. By the early '80s, the Thomases had ceased framing cottages, concentrating mainly on foundations and site preparation work. "Most of our work is still excavation and foundation," Keith says.

"Basically, we do everything except build the house," says Britt, adding that once a house is constructed, the company returns to do drainage and landscaping work. Thomas Contracting also does septic systems.

In 1994, Keith bought the company from his grandfather. Francis passed away in 2001, and while offices had been gradually added to the house that was once his home, a full remodelling of the building in 2006 turned it entirely into office space. While Francis had about 12 employees while he was still running the company, today the company has more than 50 employees and a fleet of trucks that can often be spotted along county roads.

For Brandon and Britt, was it always obvious they would one day work for their dad? "Me, I drove around in the dump truck and the bulldozer out of high school, here," Brandon says.

For Britt, the path into the family business was a little longer. "I, in high school, wanted to get as far away from the area as possible," she quips. However, after about a six-year stint in Ottawa, she returned to the county in 2012. 

After so many decades in business, what is the secret to the company's success? "I don't know," Keith says at first, thoughtfully pausing. "We've tried really hard to satisfy everybody's needs."

"Over 85 years, we know this area," Britt adds.