Geographic location: Lot 5, Conc. 1, Stanhope Twp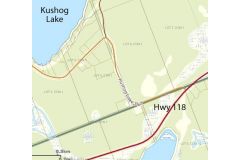 . Southwest corner of Buckslide Road and Kushog Lake Road north of Hwy 118
     Peterson's Corners, an early post office and Anson's only pioneer settlement, lay at the intersection of four townships as well as the Bobcaygeon Road and the Peterson. Once it boasted a hotel, stores and a church where families such as the Wrights and Prentices worshipped. As declining lumber trade made cadging and travel to Dorset less frequent, the settlement diminished. Source: Echoes of the Past, compiled and written by Ed H. Devitt & Nila Reynolds p. 23
     In 1934 Peterson's Corners still boasted an active Orange Lodge, L.O..L. 1278 (Stanhope), which had a roll of 24. Although most of its residents moved elsewhere, Peterson's Corners remains on Ontario's road maps, a memorial to a once thriving pioneer community.
Peterson's Corners (ghost town) From Ontario Abandoned Places:
Peterson Corner was founded supposedly at the junction of the Peterson and Bobcaygeon Colonization Roads in Haliburton (in the 1800s this was part of Peterborough County). Parts of these roads in the vicinity of the modern 118 Highway (built in the 1960s) have been reclaimed by the forest.
This pioneer community began with the lumber industry and soon sported a store, post office (opened in 1863), hotel, an Orange Lodge (#1278, a photo exists at the local museum showcasing the 20 members from the 1800s) and log shanties. History notes claim that Mr. Wright and Mr. Jervis were the first to settle the junction in the 1860s. Nothing of it remains today. Located at the SW side of Kushog Lake, some modern road maps have it wrongfully titled as "Patterson Corners" where Kushog Lake Rd. and Buckslide Rd. meet. I believe there were 2 actual possible locations for it. One was south of Hwy 118 where the former alignment of the Peterson Rd. met the Bobcaygeon Rd. The other was just west of the modern marked location at the bend in the road by the huge open field. A road used to go through this field and attached to a lost section of the Peterson Rd.
Alex Lindsay and William Walker from Ireland were the earliest settlers. Thomas Walker was born here in 1866 and lived here all his life. Other settlers to the village included family names like: Toy, Stevens, Rivers and Guinn.
Baseball was very popular in these parts in the late 1800's and each village within Haliburton had their own team.
Its post office history varies but one source claims that it existed from 1878 until 1931. It burnt down and wasn't rebuilt- its last postmaster being Don Ross.
Peterson Corner's Orange Lodge was still running proud by 1934 when it had 24 still on its roll.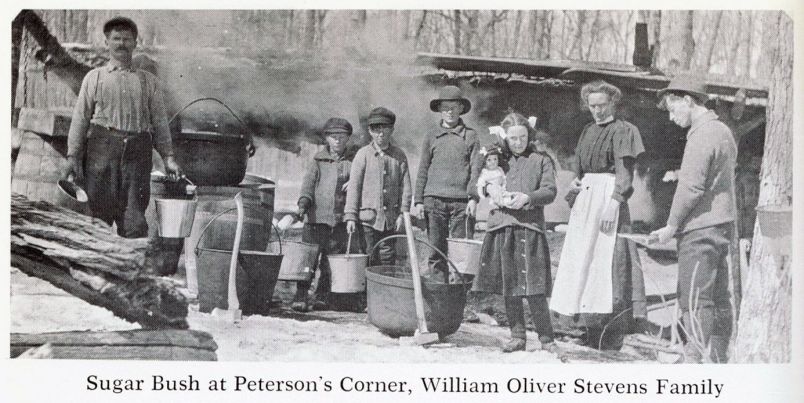 Source:  In Quest of Yesterday by Nila Reynolds. Published by The Provisional County of Haliburton, Minden, Ontario 1973