Geographic location: Hwy 35, Stanhope Twp at Halls Lake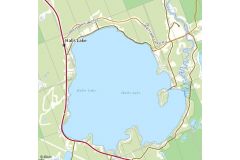 Interesting Facts:
Most of Stanhope's first pioneers augmented the returns from their crops by construction work on the historic roads. Long before surveyors or road gangs penetrated the hinterland, Boshkung and the adjoining waters were the highways of both Indians and trappers. A folk tale persists which claims that a trapper named Hall, camping by the shores of what is now Hall's Lake, disagreed with a band of passing Indians and was murdered by them. White men, learning of his fate, bestowed his name upon the lake where he met his death. Source: In Quest of Yesterday by Nila Reynolds, pg. 301
Halls Lake is said to posses the "deepest waters in the County". In the days of the pine loggers, a drive moving a block of timber, threw out its entire warping line, about 1,000 feet, and never touched bottom. Source: In Quest of Yesterday by Nila Reynolds, pg. 313
John Hewitt recounts: "It is said that Hall's Lake came by its name due to the tragedy of a man named Hall. It seems this ma came from the Peterborough area to purchase furs from the Indians and when he travelled beyond the area where the Rice Lake Indians were he was massacred by members of another tribe in  the vicinity of the lake, hence the name Hall's Lake. A great-nephew of this man who lives in the Minden area confirms the story. His grandfather, while living in Apsley, had often spoken of it." Source: Lakes of Haliburton Which Form "The Island", Haliburton County Echo, 1971
Read Dave Bulford's HALLS LAKE, It's History, Geography, Geology, Mythology and Generalogy and Deacon's Hill, The Legacy of a Halls Lake Pioneer Settler, Stanhope Township, Haliburton County, 2001
Read THE OLIVER FARM, a brief history 1871-2002.
Hall's Lake Article Toronto Telegram 1959
Hall's Lake Bursts Into A…by Gordon Donaldson, Telegram Staff Reporter
     Hall's Lake – When the flaming fingers of the soft maple trigger Haliburton county's annual bonfire of color, Bill Cooper prepares to settle in to his winter task of chopping firewood. He doesn't need firewood. His trim white home is heated by oil. His 100-ft. wood pile, like most of the big crop of vegetables he tends all summer, is there to be given away. For Bill is 75 and says he doesn't figure on living to be a thousand. "I don't need to go collecting things for myself any more," he says. "And I like to work. So if she'll do good to somebody, they gets her whether it's wood or vegetables." He gave away $100 work of strawberries this year before he brought any home for himself.
     Bill Cooper was born at Hall's Lake not long after the first settler, Trapper Hall, was murdered, apparently by Indians. He grew up with the place and with the copse of now-tall pines he planted 35 years ago. And his story is that of the lakeside community which now has a winter population of 50 and 10 times as many cottagers in the summer. He began as a farmer scratching a living out of the rocky hills. He cleared and grew hay on Aunt Sarah's Lookout, the vantage point now maintained as a park by the Department of Highways. "Aunt Sarah" Cooper was his mother. Later he opened a store. "I can write my name and that's all," he says, "so I kept the books in my head. I can remember today the names of the customers that didn't pay 'cause in those days I didn't have enough to give away."
     As farming died out and the lake became a resort area, Mr. Cooper and his wife opened a lodge and a dance hall. He played the fiddle and Mrs. Cooper the piano.Hall's Lake still has a dance  hall, but it now uses rock 'n roll records.
     As a flourishing resort area with good trout fishing, Hall's Lake keeps a keen eye on the water level. This summer the lake was down about four feet and the levels of adjoining Big and Little Hawk Lakes were 15 feet below normal. Two stores were badly hit because boats couldn't get through them. Resort owner Doug Adamson complains that the Trent Canal system is taking too much water from the lakes. "This boating craze is using up far too much water there," he says. "I hear they're even locking canoes through."
     Ice fishing reopened last winter for the first time in many years and storekeeper John Down whose store remains open all year, hopes this will boost winter business.
     Like other communities along Scenic Highway 35, Hall's Lake enjoys its greatest glory in the fall. Residents claim its colors are more violently beautiful than the rival area of …[end of copy]
Read Recollections From Summers at Halls Lake, written by Bob Mills, 2019. The photo below was taken in the 1940's just south of Braeloch Road on Highway 35 when it was still gravel.