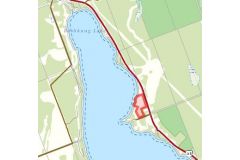 Geographic location: Lot 12, Conc. 5, Stanhope
Current address: 16527 Hwy 35 on Boshkung Lake
Date range:
Interesting facts:
In his 1966 Collection of Sketches, "The Tourist Industry", Clayton Rogers tells the story of the start of the tourist industry in Stanhope Township: "At Halls Lake mention has been made of the Homestead, operated by E. Ackerman."
In Boshkung Lake Memoirs, The Boshkung Lake Millennium Book Committee, 2001 George McLaughlan mentions that Leigh Sisson kept cattle on his farm where the Homestead Cottages
are now. George's mother would pasteurize the farm milk.
Public access: Yes
Current use: Business
Ownership History:
1877 Patent from The Crown Henry Fitzsimmonds 32 acres
1881 Henry Sisson (b. 1823)
1894 Thomas McLeod Sisson B&S
1922 Leigh Laverne Sisson
1937 Stanley Archer, part
1944 Thomas Edgar Archer & Lillian Archer
Photos: The Homestead on Boshkung Lake. On scenic Highway 35, completely modern housekeeping cottages at the water's edge. Safe, sandy beach ideal for children. Owner-managers: Richard and Dorothy Thomson. Source: Carol Moffatt's Postcard Collection