Geographic location: Lot 9, Conc. 8, Stanhope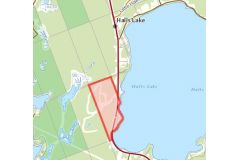 Current address: Marys Lane on the west shore of Halls Lake
Date range:
Interesting facts:
In his 1966 Collection of Sketches, "The Tourist Industry", Clayton Rogers tells the story of the start of the tourist industry in Stanhope Township: "Glenroy Lodge, on Halls Lake, operated by Mr. and Mrs. Bursey, enjoy a good clientele."
Elsie Bursey was one of the leaders in the drive towards turning the dream of Hyland Crest into a reality. Elsie was the facility's first Administrator (Zion United Church 50th anniversary newsletter - "The Women of the UCW").
At one time it was called Burnanda after their two daughters Bernice and Sandra according to Garth Mole (Interview Nov, 2019).
Johnny Down is said to have died while walking down the road to the lodge.
Owner History:
1960 John Charles & Madge Locke
1969 Peter & Anna Bergen
Alfred & Gisela Klepeis
Robert Price & Barbara Flinn
1988 Robert Price & Bryan Goodger
1990 Fred & Rose Brittain
Public access: No
Current use: Private cottages
Lot 9, Conc. 8 Ownership History:
1917 Patent from The Crown Robert Oliver 81 acres Free Grant
1918 Frank Gartshore
1919 Robert Oliver 1930 Jemima Oliver (widow)
1932 Arther Robert Oliver
1938 H Walter Izzard 41 acres
Parcel Broken Into Separate Lots
Image 1: Glenroy Lodge 1987