Geographic location: Lot 10, Conc. 9, Stanhope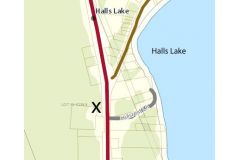 Current address: Hwy 35 opposite Hillcrest Lane
Date range: 1950 -1966
Interesting facts:
Originally called Brandon's Bake shop (only open one year, in early 1950s), run by Charles 'Slim' Brandon who played boogie piano at the Halls Lake Dance Hall. 
In 1948, Fred and Freda Briscoe moved to the Highlands and two years later they opened up Hall's Lake Fish and Chips on Hwy 35 (below left). The building was previously owned by the Brandon brothers and operated as a bake shop. The store was expanded in 1957 (below right) but unfortunately, it was destroyed by fire after being struck by lightning in 1966. Our thanks to the Briscoes' granddaughter, Darlene Box, for sharing this with us, just as the Briscoe clan gets ready to celebrate its 50th Thanksgiving together in Stanhope. Source: Pic of the Past, Haliburton Echo
Anyone living in Stanhope Township in the fifties will remember the Briscoe family's fish and chip restaurant at Halls Lake. Marvel Eager (nee Welch, born in 1934) at about the age of 12 would ride her bicycle all the way there and back. It took her a day to complete the journey but the fish and chips made it well worth the trip. Source: Maple Lake Memories by Marvel Welch, Karen Eager and Sharon Lynch.