Geographic location: Lot 28, Conc. 4, Stanhope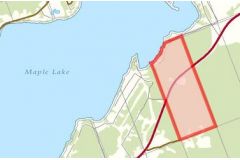 Current address: Hwy 118, east of Fader Drive
Date range: Oct 1, 1901 to Sep 15, 1903
Interesting facts:
The Postmaster was Mark Sisson. The Post Office would have been located at his property. He resigned in 1903 and then moved to West Guilford, He had been given land there by his father-in-law Nelson Barnum. He later took over the job of Postmaster from Nelson Barnum at the West Guilford Post Office in 1915 and served for 15 years.

The Maple Lake post office burned before the Sissons moved to Guilford but it prompted a local bard to write a song about it and the fight occurring there between rivals for the affections of a school teacher named Ina. All the lines still remembered are "Mark Sisson kept the post office in a shady grove. The school mistress came to get her mail, likewise to meet her love." The fight couldn't have amounted to too much because, "Mark Sisson had to kill a rooster to make a little blood." Source: In Quest of Yesterday by Nila Reynolds, p. 156.
Public access: No
Current use: Unknown.
Information source:
In Quest of Yesterday by Nila Reynolds, p. 156.