Geographic location: Lot 9, Conc.13, McClintock Twp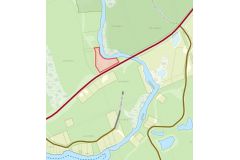 Current address: Timber Trail - 4575 Hwy 60, Oxtongue Lake area
Date range:
Interesting facts: Timber Trail Algonquin
From Timber Trail. Source: Facts and Fables of Oxtongue Lake, 2000 pg. 159
In 1950 Ray and Mildred Smith buit a cottage, a sleeping cabin and log store near, but not on, the Oxtongue River at the site of Timber Trail. A Mr. Aberdeen had a cottage on the property between the Smith's and the bridge of the Oxtongue River. In 1952, Andrew Leslie purchased both these pieces of property. He operated Timber Trail for thirteen years. During this time he added to the store, purchased more land and added a number of cabins. 
The business was sold to Ray and June Marson in 1965. On a very cold February night in 1980, tragedy struck, fire taking the life of John's wife Betty-Anne and their young son Joel. John rebuilt this log store in memory of his wife and son. He also added a log restaurant next to the store called Paddle Inn.
Doug and Sandra Rae purchased Timber Trail from the Marsons in 1988.
Fire destroys Timber Trail Algonquin at Oxtongue Lake.  In the early morning hours of November 20, 2013, a highly destructive fire engulfed the main building at Timber Trail Algonquin, at Oxtongue Lake, in Ontario. This was the second fire in the life of Timber Trail Algonquin. Many years ago, another raging inferno at that very location consumed the original log structure. In that horrific fire, two members of the Marson family of Oxtongue Lake perished. Source:  FrametoFrame
The Paddle Inn Restaurant combined with it's fully licensed patio, playground and a beautiful view of the Oxtongue River will satisfy any appetite. The Trading Post is your one stop for everything including moccasins, casual wear, gifts, Algonquin Fudge Co's cream and butter fudge and last minute things you may have forgotten. Doug, Sandra, Sara and Paul Rae invite you, your family and friends to visit them anytime. Source: 2004 Website
Interesting facts: These facts relate to the adjacent property, all in Lot 9,  Conc. 13, McClintock
From Club 60 Restaurant. Source: Facts and Fables of Oxtongue Lake, 2000 pg. 154
May 1955 Dorothy Maxwell purchased 0.58 aces along Highway #60 and sold this parcel to Florence Gertrude Thompson in November of the same year. Mrs. Thompson along with James Wooley opened a restaurant, Club 60 Restaurant. Source: Facts and Fables of Oxtongue Lake, 2000 pg. 154
1961 Restaurant was purchased by Donald Ross in partnership with Albert Lambier. After a couple of years, Don & Lorene Ross became the sole proprietors and changed the name to Lordon Lunch Room and Motel. The motel burned to the ground in 1964 and was not rebulit. They continued to operate the lunchroom until the business sold in 1970 to Bill Brant and family. Source ibid. pg 129.
1970 Purchased by Bill & Elsie Brant and renames Brant's Snack Bar.
1972 Purchase by Bill & Marie Warboys and renamed Travel-al.
1974 - 1998 The restaurant had several owners, including:
• Bob & Charmaine Warden
• Fred & Doris Wagner
• Fishers from Huntsville
• Pat Brnjas - renamed Country Kitchen
1998 purchased by Andrew LeslieTimber Trail Algonquin (the abutting business) and opened as a Country Store
2000 used by Timber Trail as a residence for staff
Public access:
Current use: Property for sale
Ownership History:
Photo 1: Travel-Al Snack Bar owned by Bill & Marie (Warboys) Service - 1973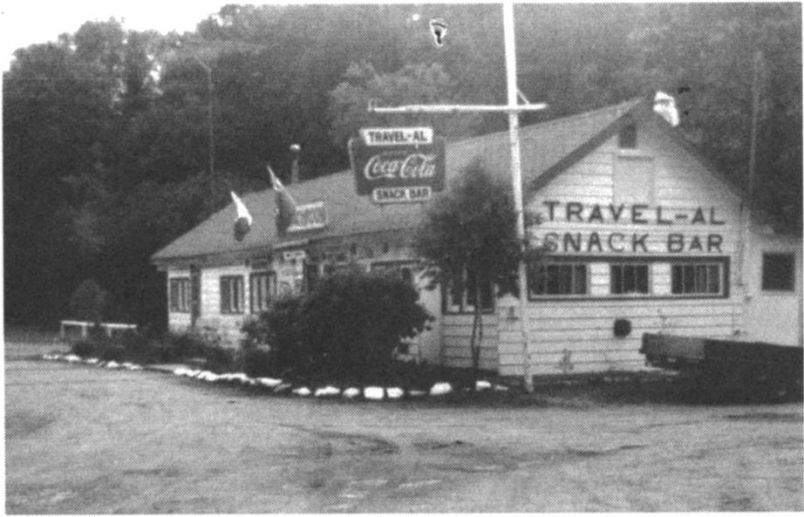 Photos 2: Source - Facebook Real Estate Listing: Used to be a trading post with restaurant. very well crafted cabins - 5 cabins + 4 old cabins (shells only). Stunning waterfront and great potential! Being sold `as is where is.