Geographic location: Lot 7, Conc. 12, McClintock Twp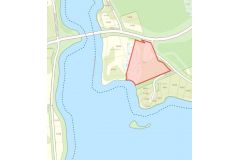 Current address: 4412 Hwy 60, Oxtongue Village
Date range:
Interesting facts:
From PARKWAY COTTAGE RESORT Submitted by B. Ellis. Source: Facts and Fables of Oxtongue Lake, 2000 pg. 157
A gentleman by the name of Ray Smith purchases six acres of land on the Oxtongue Lake around 1948. On this site, he built cottages facing the lake and a main building to serve as living quarters, office and a small grocery store which faced the main road (Hwy #60). Thus, Parkway was created. Sometime in the very early '50s he sold to Mr. Stevenson, who later took on Mr. Kendall as a partner. They ran the business as partners for a few years. mr. Kendall bought Parkway outright and proceeded to run it solely until May 1962, at which time he sold to Glen & Laura Warboys.
When the Warboys took over Parkway, there were 13 cottages, campgrounds, small gift shop and grocery store with a take-out window for fast food. Parkway was again sold in March 1990 to the Ellis family, and in 2000 vern and Betty continue to operate and upgrade Parkway Cottages.
From GLEN & LAURA WARBOYS, Submitted by M. Service. Source: Facts and Fables of Oxtongue Lake, 2000 pg. 145
Glen. Laura and son Fred came to Oxtongue in May 1962  and purchased Parkway from Ernie Kendall. In 1965 with the help of Ray Smith and Norman Land they rebuilt the store and living quarters.
Public access: Yes
Current use: Resort - https://www.parkwayresort.ca/
Ownership History: