Geographic location: Lot 4, Conc. 12, McClintock Twp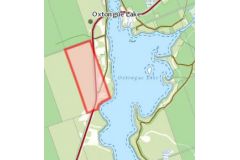 Current address: 4019 Hwy 60, Oxtongue Lake Village
Date range:
Interesting facts:
From Oxtongue Lake Cottages. Source: Facts and Fables of Oxtongue Lake, 2000 pg. 156
In 1924 William bought Lots 4 & 5, Concession 12 on Oxtongue Lake from John Robertson, with the exception of one-half acre given to the township for a school, and the northern corner (later owned by the Greenwoods). 
In 1928, Bill and Hattie opened a summer store at Oxtongue. Here they farmed, kept cattle, and grew fruit trees.  They sold the produce to travelers bound for Algonquin Park, to local residents, and to the early cottagers, particularly the Chapins, Lewis', Boyds, and Ellisons. The Keown family would return to their permanent home for the winter.  Bill served as a caretaker for many of these early cottagers, building additions as required, and checking snow loads in the winter.
In 1938 Bill and Hattie established the tourist business of Bill's Cabins. In that year they sold property to Frank Hubbel, which later became the site of Hubbel's Mill. Three cottages were moved from the Hubbel property to start the Bill's Cabins Resort. Five more cottages were built that year.
Fran and Don Gower purchased Bill's Cabins business in 1972 and changed the name to Oxtongue Lake Cottages. Over the next two years, seven of the cottages were renovated and winterized to expand the season to winter rentals. This was the time of development of the snowmobile and cross-country ski business.
In the spring of 1980, the Gowers sold Oxtongue Lake cottagers and their residence to Brian and Alison Carter, who continue to own this tourist business today [year 2000] with the assistance of managers to operate it.
Public access: Yes
Current use: Resort - Oxtongue Lake Cottages