Geographic location: Lot 16, Conc. 14, McClintock Twp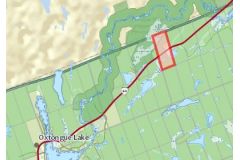 Current address: 5280 Hwy 60 - Algonquin Bound Outfitters & Inn This is a guess. 
Date range: 
Interesting facts: There were two businesses in the same area
• From Cur Inn. Source: Facts and Fables of Oxtongue Lake, 2000 pg. 155
Joseph M. McAllister purchased 5.76 acres from the Crown in 1953, locate between Hwy #60 and an unnamed lake. Joe constructed a large building for a restaurant, groceries, gift shop with living accommodation on the second floor. He also built a motel. This [was in 2000] the last gas station before Algonquin Park.
In the 70's, this business was purchased by a Merry family and later by Dave and Frances Howrie. In 2000 the owners were Josie and Gus Singh, who were still running a restaurant, gift shop, gas pumps and motel.
---
• From Road Runner. Source: Facts and Fables of Oxtongue Lake, 2000 pg. 158
In 1950 James A. Henderson purchased 9.42 acres from the Crown for a summer resort. He built a motel and had a restaurant. In 1952, this business was purchased by John C. Howland, who operated it for about ten years and then moved to Marmora. Ont.
In 1973, Leonard & Kathy (Warboys) Talbot bought the old buildings with plans to open the restaurant again, as it had not been in operation for a number of years. The motel units were renovated for their own living space. Len was well known for his cooking skills and good nature, getting up at any hour to cater to the truckers travelling through Algonquin Park, or anyone else who needed help.
Mitch & Cathy Cowan, in partnership with Leslie & Kevin Estey, purchased the business from Len & Cathy. Over the next 20 years it changed hands several times to names such as Bob Cousineau & Early Lockhart, the Merry family, Murray & Peggy Brown, the Bakers and now [2000] the John Harris family. the name too has changed to The Howling Wolf.
Public access: 
Current use: 
Ownership History from Land Parcel Registry. Click here and go to Image 253
• Curv Inn:
1950 James A Henderson: Patent from His Majesty for 9.42 acres summer resort  on Hwy 60 for $180
1952 John Holroyde for $1,850
1963 Lease Supertest Petroleum Corporation Limited
1969 George Churakos for $2
1971 Supertest Petroleum lease cancelled
1971 Douglas & Joyce Gullins
1973 Leonard Shaw & Kathleen Mary Talbot for $2
1974 Agreement with Sun Oil Company
1979 Robert F Cousineau for $2
1980 Earla Lockhart, not a spouse & Robert F Cousineau, not a spouse, agreement with Sunoco Inc
• Road Runner:
1953 Joseph Mart McAllister: Patent from Her Majesty for 5.76 acres on an unnamed lake on Hwy 60 for $161.28
1962 Mortgage from British American Oil Company Limited for $5,000; discharged same year.
1974 Mortgage from Gulf Oil discharged
1985 William F & Marion V Merry