Stanhope Township History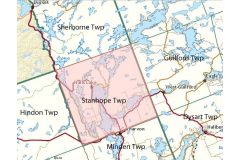 The original survey for the Township of Stanhope was commenced in October 1859, by G. W. Stewart, P.L.S., and the results of this survey were presented in a report to the Commissioner of Crown Lands in July, 1860. Mr. Stewart in this report stated, "The Township of Stanhope with its numerous lakes, and boldness of scenery make it particularly attractive to the sportsmen and lover of Natural beauty." The Township was named for an English Earl, Philip Henry Stanhope, who composed a history of 18th century England.
Municipal records indicate the 1874 Council for the Township of Stanhope consisted of Reeve Andrew Brown and Councillors Henry Jones, David Keers, Nelson Taylor and Henry Fitzsimmonds.
Source: Centennial Corner, Haliburton Echo, April 25, 1974
The former townships of Stanhope and Sherborne were each incorporated in 1866. In 1874 the two townships came together and were known as The United Townships of Stanhope and Sherbourne (with a u). They separated in 1897 and Sherborne went on to become Sherborne et al, encompassing the townships of Sherborne, McClintock, Livingstone, Lawrence and Nightingale. Stanhope remained independent until it amalgamated – again, with Sherborne et al in 2001, becoming Algonquin Highlands.
Stanhope remains the "township without a town"; a community of loggers and farmers where the absence of a village forced people to create their own sense of community. Home of the Hawk Lake Log Chute, famed racehorse Guilford Bay and myriad colourful characters, the Stanhope area of Algonquin Highlands is the headwaters of the Trent-Severn Waterway and is a picturesque and storied community of toil, innovation, tenacity and creativity.