Geographic location: Lot 4, Conc. 10, Stanhope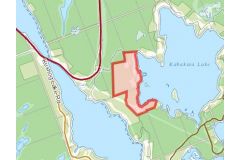 Current address: 1143 Camp Kandalore Dr on Kabakwa Lake
Date range: 1947 to present
Interesting facts:
Camp Kandalore was created in 1946 when Keith Cleverdon purchased Crown land on the east shore of Kabakwa (Peach) Lake - Ontario Land Parcel Register - Stanhope (Image 53). A rough road was constructed from Highway 35 leading into the forest and a small lodge was constructed.
Kirk Wipper, who taught at the University of Toronto's Department of Physical Health, became director in 1957, expressing a longstanding interest in the values of adventurous camping in a natural physical environment. Among all the activities and endeavours of the camp, the canoe was the centre point and expert paddlers and skilled woodsmen enjoyed high status.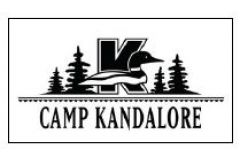 In 1972, the first winter camp was offered as part of an organized outdoor education programme to school boards and universities. A range of activities was available for visitors such as cross-country skiing, snowshoeing, orienteering, winter campcraft, and hiking.
In 1977, Wipper sold Camp Kandalore to senior staff for camping, but retained a parcel of land for the Kanawa Museum which subsequently became an independent operation. A new era began in 1988 with considerable efforts being put into upgrading the facility; over the next ten years new cabins were built, older buildings were winterized for further off-season use, and new equipment continued to be purchased in order to facilitate a programme that eventually started to flourish again. By 1997, almost 200 children were attending Camp Kandalore every two weeks. In 1992, the camp transitioned from an all boys camp to a co-ed camp. Today the camp continues to offer a full camping experience.
Camp Kandalore 1947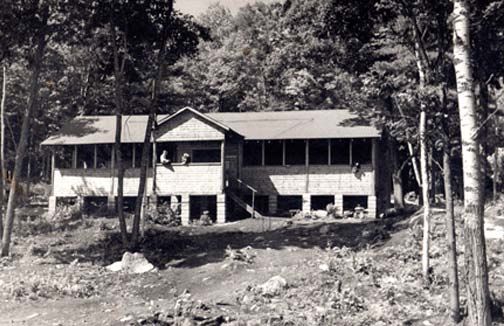 Read The Kandalore Experience: Generations of Youth Camping in the Haliburton Highlands by Jon Grimwood, a student report prepared for Trent University -Bioregionalism Course 1998. U-Links Centre.
August 22, 1974: The "Folk-Lore Festival" at Camp Kandalore on Saturday and Sunday was quite well attended and certainly well worth driving up Highway 35 to view the wonderful display of canoes and to see the tremendous museum of early Indian and Canadian crafts, tools, machinery and buildings. This Festival was held under the auspices of Stanhope Township in co-operation with Mr Kirk Whipper of Camp Kandalore and tied in with other Centennial projects. A lot of planning and organizing went into this two-day affair open to the Public and thanks should be given to the host and the committee who kept things moving. Source: Hall's Lake News, Haliburton Echo
Public access: Yes   Current use: Camp
Photo 1: Early Camp Kandalore Brochure (saved by Carol Moffatt)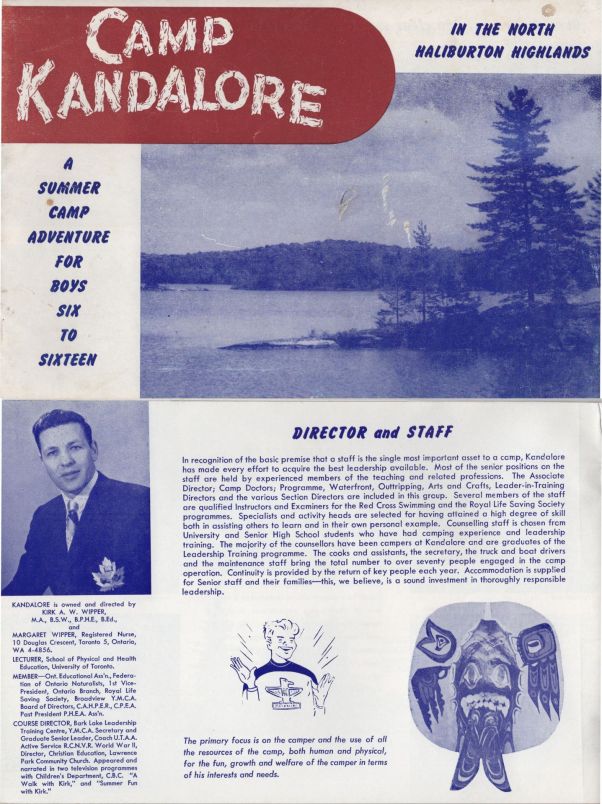 The Kanawa International Canoe Museum (now called the Canadian Canoe Museum located in Peterborough) began in 1957 when a friend presented Wipper with a dugout made around 1890. The collection grew, and in the late 1960s with over 150 artifacts, a building was constructed to house the craft at Camp Kandalore. Even with additions to the building, the collection outgrew its space and in 1997 it was moved to a facility donated by Outboard Marine Corporation in Peterborough.
Read Kanawa by Fran Fearnley, published in Halcyon Magazine June/July 1985