Geographic location: Lot 3, Conc.1, Sherborne (Stanhope area)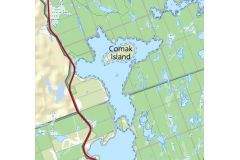 Current address: St. Margaret's Island at the north end of  St. Nora Lake
Date range: 1940s - 1970
Interesting facts:
Located on St. Margaret Island (an island of nearly 17 acres in St. Nora Lake), this camp offered a complete camp program to 175 campers with 50 staff members at its peak. The island was subdivided in 1970 into 40 lots for cottages.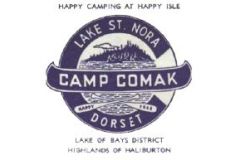 From Bears in the Bird Feeders by Jim Poling, Sr.:
Camp Comak, a summer camp for boys, began in the late 1940s when a group of gentlemen bought St. Margaret Island and some of its buildings from the Woodruff-Band family. The camp had tennis and basketball courts, athletic field, diving towers in the lake, an outdoor chapel, archery and rifle ranges, and a photo lab. Much as packed into a relatively small island, including the dog cemetery that had been established by the Woodruffs.
The camp closed in 1970 and the island was carved up into forty-three cottage lots that were sold off individually.
See St. Margaret's Island history.
Public access: No - now private property
Current use: Private property