Settler of township lot: Lot 1, Conc. 3, Guilford (Stanhope area)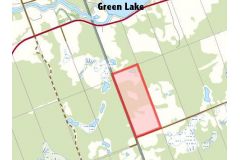 Location: Map point is the approximate location on this 100 acre lot which runs north from the west end of Irish Line.
Land Acquisition: 1923 from William Henry Deacon. Ontario Land Parcel Register - MInden (Image 2).
Dates of residency:
Interesting facts:
Jimmy Titus [Manley's father] owned a saw mill at the foot of Grass Lake. Source: In Quest of Yesterday by Nila Reynolds. pg. 165. The late Jimmy Titus once dug up a fine tomahawk head near his sawmill. Ibid pg, 14,Preceding landowner.
Previous landowners:
1895 James Deacon from The Crown
1910 Henry Smith Deacon
1923 William Henry Deacon
Succeeding landowner:
Link to Settlers of Algonquin Highlands family tree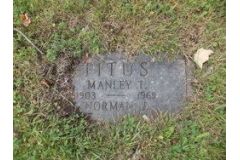 Manley Truman Titus, b. Abt 1903, Ontario d, 1969. Buried: Maple Lake Cemetery
Parents:
• James Reginald Titus, b. 22 Jan 1874, Ontario, C d. 28 May 1940, Guilford, (Age 66 years)
• Martha Packard, b. 25 Nov 1877, Ontario, Cd. 1958 (Age 80 years). Buried: Maple Lake Cemetery