Settler of township lots: Lot 31, Conc. 5, Stanhope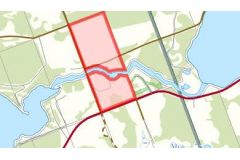 Location: Map point is the approximate location within this 98 acre lot straddling the river between Maple and Beech Lakes.
Land owner:
This lot was patented to Benjamin Clark from The Crown in 1872, transferred to his son, George Nelson Clark in 1878, and on to his son, Benjamin Digney Nelson Clark in 1907. George Nelson Clark was also enumerated at this lot on the 1901 census. Ontario Land Parcel Register - Stanhope (Image 376)
Dates of residency:
1881 Birth of Son William Percival Bake (1881–) Minden, Township of Anson & Hindon
1899 Marriage to Catherine Elizabeth Clark. Fenton Bake is a carpenter. Both parties resident in Stanhope Township.
1901 Census of Canada, Stanhope: Fenton Bake and wife Catherine E. b. 1831 at which time this lot was owned by Bake's 3rd wife, Catherine Clark's nephew, George Nelson Clark
1901 Stanhope Votes List: Fenton Bake, carpenter
1903 Business Directory, Stanhope: Mrs C Bake, Maple Lake, Lot 30, Conc. 5
1914 Fine/Jail for "hanging about King Street". See photo below
1915 Death in Toronto, York County, Ontario. Fenton Bake died of chronic bronchitis. Address of informant is the Toronto Jail.
Interesting facts:
In 1894, Fenton Bake of Lindsay was sentenced to three years' imprisonment for bigamy. (The Glengarry News, page 4, 13 Jul 1894)
Preceding landowner: 1872 Benjamin Clark from The Crown
Succeeding landowner:
1907 Benjamin Clark b. 1882 son of George Nelson Clark part
1917 Adam Henry Sawyer part
Link to Settlers of Algonquin Highlands family tree
Fenton Bake, b. 23 Feb 1848, England d. 16 May 1915, Toronto Jail (Age 67 years) COD: Chronic bronchitis
Wife 1. Martha Wilsher  b. Abt 1849, England  d. 22 Aug 1916, Toronto, (Age ~ 67 years)
Daughter: Martha Elizabeth Bake, b. 18 Jul 1873, Toronto
Wife 2. Eliza Ann Asling, b. Abt 1862, Mariposa, Victoria, Ontario
Son: William Percival Bake, b. 16 May 1881, Minden, d. 1965  (Age 83 years)
Wife 3. Catharine Elizabeth Clark, b. 06 Jan 1831, Lennox & Addington, Ontario,d. 05 Nov 1917, Stanhope, (Age 86 years)
Photo: Fenton Bake charged  with "hanging about King Street" 1914. Toronto. Toronto Daily Star, 14 Sep 1914. Source: Ancestry.ca