Geographic location: Lot 12, Conc, 1, Stanhope Township
Current address: Hwy 118 west of Carnarvon between Boshkung and Little Boshkung Lakes.
Date range:
Interesting facts: The original wooden bridge that spanned the narrows between Boshkung Lake to the right and Little Boshkung Lake to the left was condemned as unsafe in 1912. Nonetheless people chose to continue using it, rather than take a detour of several miles. The story goes that one day, when a farmer was walking a newly bought cow home across the rickety bridge, the times gave out and the two got a dunking. As a result, the old bridge was finally torn out and replaced;
When it was rebuilt again in 1969, it was named Damion's Bridge in recognition of the contributions Phoebe Ann Damion had made to the community.
Public access:
Current use:
Information source: Explore Halliburton by Susan Wilson (Stoddard Books, 1997)
Photo information & source: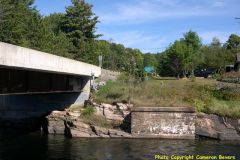 An old stone abutment beside the current Hwy 118 structure marks the location of an earlier bridge across Boshkung Lake Narrows. The former road alignment leading to the old bridge is clearly visible on the western side of the channel. The former road alignment on the eastern side of the channel was largely obliterated when the current Hwy 118 bridge was built.
(Photograph taken on September 19, 2008  -  © Cameron Bevers) from the Photographic History of King's Highway 118. http://www.thekingshighway.ca/PHOTOS/Hwy118photos2.htm